Tuesday, June 11th, 2013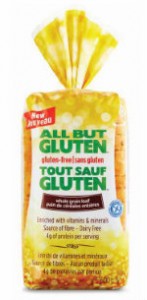 This Win-It-Wednesday sponsor on BeFreeForMe.com is a new bread and bakery company… All But Gluten. And before you go thinking, "Who needs another gluten-free bread company?" Stop right there!
This new brand of bakery product is different than all the rest because you can find it in the fresh bakery section of your supermarket. Yup. You heard it right. No more taking the trek to the frozen foods department (aka: The Land of the Frozen Solid Gluten-Free Bread). Now you can just head to the fresh bakery section to find your great tasting gluten-free breads and baked goods.
All But Gluten makes all of our favorite breads and baked goods too… savory items like focaccias, pizza shells, breads and sweet treats like brownies and macaroons.  All But Gluten is sure to rekindle our love of baked goods.
And the folks over at All But Gluten have taken strict steps to make sure that all their gluten-free baked goods are gluten-free. They are made in a dedicated gluten-free facility in Canada, meet Health Canada's gluten-free regulations and are certified by the Canadian Celiac Association's respected Gluten-Free Certification Program. Plus, all of the All But Gluten items are dairy free too.
And as an added bonus these yummy products are nutritious too. All of them are a source of fiber and enriched with vitamins and minerals.
All of these fabulous tasty, nutritious (and non-frozen!) reasons are why I am so excited that this Win-It-Wednesday is sponsored by All But Gluten Breads & Baked Goods. Four (yes 4!) lucky BeFreeForMe members will be the winner of a delicious prize pack of All But Gluten products. Two winner will be randomly selected from all comments / entries received before Tuesday, June 18, 2013 at 11:59 PM (EST), and a second winner will be selected from all comments / entries received between Wednesday, June 19, 2013 at 12:00 AM (EST) and Tuesday, June 25, 2013 at 11:59 PM (EST).
How can you win?
Easy!
Reply to this blog and tell us what All But Gluten product looks best to you. Good luck, let All But Gluten rekindle your love of baked goods and, as always…
Be Free!
P.S. Want to be the first to know about All But Gluten news and offers? Check out their Facebook and Pinterest accounts!
Note: Be on the look-out for the All But Gluten items in the States soon! In Canada, All But Gluten products can be found in the following stores!