Friday, September 6th, 2013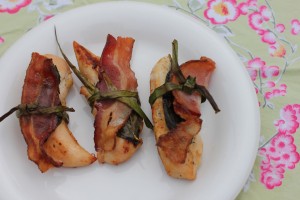 Last night I was forced to face the hard-cold reality that summer is indeed over. Just as the days are getting shorter and the evening air a little nippier, the unthinkable happened: My Weber grill ran out of gas.
Yup… it ran out of gas. Just like that. As if to say, "I'm through. I'm done. Let that damn lazy oven do something around this place. Get your creative forces in high-gear, Kathleen. It's September and I flippin' quit."
What a smartie-pant  troublemaker  that Mr. Weber can be.
Plate of raw chicken in hand, I wandered aimlessly back to the kitchen, turned the good ole' faithful oven up to 350 degrees, opened up the refrigerator door and stood staring. Pondering. Begging my creative juices to start flowing.
I wasn't ready for this. Where were the days of al fresco dining on the patio, laughing and tan with my margarita in hand while waiting for the gas grill to do all the work and basically cook dinner for me?
And just like the autumn leaves that are getting ready to descent, my next dinner creation creatively fell into place one delicious ingredient at a time. Chicken Tenders Wrapped in Basil & Smokey Bacon. Yum.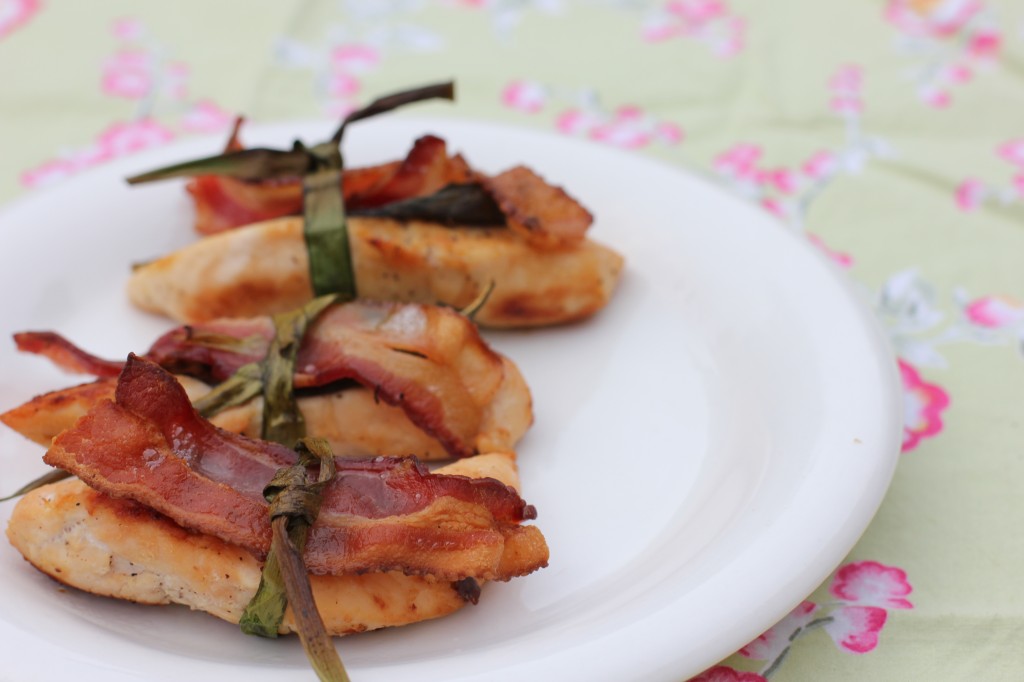 And for Mr. Weber? Yes…  I will be attacking his grates feverishly with a hard wire-brush this weekend (payback time, baby!). And maybe, just maybe, I'll let him get all fired-up once again this year since I decided I can take the back-talking attitude especially when I have my faithful oven by my side.
And after all, a hot toddy on the patio while dinner is cooking is a perfect addition to a cool Autumn evening.
Chicken Tenders Wrapped in Basil & Smokey Bacon
1 ½ – 2 pounds of boneless and skinless chicken tenders (to yield about 1 dozen tenders) – about 4" long
1 tablespoon extra-virgin olive oil
Several slices of smoked bacon
Approximately 1 dozen fresh basil leaves, larger sized – washed and patted dry
One dozen green onions (the longer the better!) – washed and patted dry
Optional: Red Pepper Jelly, as a side for dipping
Preheat oven to 350 degrees.
Over medium heat, in a large skillet heat the olive oil. Add the chicken and cook, turning occasionally until almost done through. About 10-12 minutes.
While the chicken is cooking, place the bacon slices on top of a paper towel lined microsafe dish. Cover the bacon with a few more sheets of paper towels and microwave for about 3 minutes or until bacon slices are cooked about ½ way –  so they are still soft and pliable,. Remove from microwave, drain excess grease and let drain on clean paper towels.
On a large baking sheet, place the chicken tenders. Top with a basil leave, and wrap with a slice of bacon. Hold in place by wrapping with a green onion and tying a "knot" to hold.
Place in the preheated oven and cook for about 10-15 minutes, or until the chicken is cooked through.
Serve with a side of red pepper jelly, if desired.
Serves 4.