Tuesday, November 17th, 2015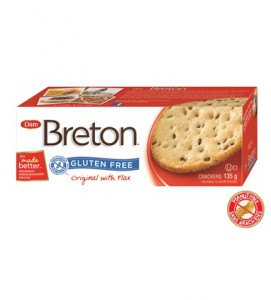 With the holidays quickly approaching dinners, cocktail parties, and get-togethers are going to be coming every week.
And a perfect addition to any of these soirees is a bountiful cheese & cracker tray with all the fixings like grapes, olives and roasted veggies.
But sometimes searching for a gluten-free cracker that is crispy, crunchy and tasty… a gluten-free cracker that will be love by all is hard to find.
That is why I was so thrilled to find Breton Gluten Free Crackers. These crackers are just like the traditional Breton crackers made by Dare.  I have served these crackers many a time, and even the non gluten-free people loved them and couldn't tell the difference.
The varieties they come in are the Original with Flax, and Herb & Garlic. They also make a really nice Black Bean with Onion & Garlic Cracker and White Bean with Salt & Pepper Cracker that are both gluten-free too.
All of these delicious reasons are why I am offering up a prize pack of these delicious gluten-free crackers.
A total of two (yes, 2!) BeFreeForMe.com members will be randomly selected to win a prize pack of two boxes of the Breton Gluten-Free Crackers (one box each of the Original with Flax and the Herb & Garlic). One (1) winner will be randomly selected from the entries received before Tuesday, November 24, 2015 at 11:59 PM EST, and one (1) more winner will be randomly selected to win from the entries received between Wednesday, November 25 and Tuesday, December 1, 2015 at 11:59PM. SO – make sure you enter two times to win!
How can you win?
Easy!
Reply to this blog and tell us which Breton Gluten Free Crackers looks the best to you.
Good luck, enjoy the Season that is approaching us soon, and, as always …
Be Free!