Tuesday, January 12th, 2010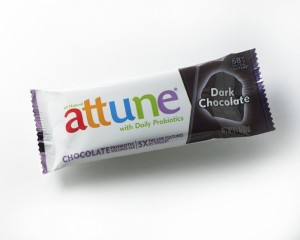 I'm super excited about Attune Probiotic Chocolate Bars being this week's sponsor of BeFreeForMe WIN-It-Wednesday.  I'm excited because these bars not only taste good… but they are good for you too!
After getting diagnosed with celiac disease I have become extra diligent about my overall health. The day after my diagnosis I decided to embrace the gluten-free diet and use it as a starting point of living a healthier and happier life. This is why I love finding products that are a healthier alternative to foods I enjoy the most…  and chocolate is at the top of this list!
The secret behind the rich, chocolaty Attune bars is that they are packed with probiotics. And in case you're wondering, probiotics protects our bodies from harmful bacteria, strengthens our intestinal walls and helps digest fiber in our diets, so that we are able to absorb the nutrients in the foods that we eat. So, basically, these are chocolate bars that are good for you… Yes, a dream comes true!
The gluten-free Attune bars come in four different flavors: Dark Chocolate (which is my favorite), Milk Chocolate Crisp, Mint Chocolate and Blueberry Vanilla. 
Attune bars are a perfect snack to get your digestive tract on the right track – especially for those folks, like celiacs, that are concerned about overall digestive health. Plus, Attune Foods is a proud sponsor of The Celiac Disease Foundation and is committed to educating consumers & raising awareness about celiac disease and how it affects overall digestive health. Attune Bars are not only good for celiacs, but they are doing good for us too.
Just in time for New Year's resolutions to get healthy and fit (did I mention these bars are only 80 to 90 calories each?), Attune Foods is offering FIVE (yes, 5!) LUCKY BeFreeForMe members a month's supply of Attune gluten-free probiotic bars!
How can you WIN?
Easy!

Reply to this blog and tell us what you are doing to keep healthy in this New Year (Me? I have made a commitment to do more strength-training exercises this year… and yes… my arms and legs are feeling it!) 
You must reply to this blog by Tuesday, January 19, 2010 by 12 midnight (EST) for a chance to win.
Good Luck, Stay Healthy… and as always,
Be Free!
P.S. For a limited time, Attune Foods is offering $2.00 OFF a box of the gluten-free probiotic bars too! You Can Download the Coupon Here!