Thursday, March 27th, 2014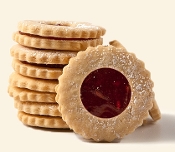 Sometimes you try a new product and you just know it was made with love. A product that is made for a reason.  A product that has heart, soul, and compassion as ingredients.
And when I first tried My Dad's Cookies I felt that love.
These gluten-free, dairy-free and nut-free cookies are made by a Dad (Elan) for kids with food allergies.  Starting his company in New York City in 2010, Elan's goal was to simply create cookies that look and taste like the "real ones" that people with celiac (young & old) miss eating; and the product must be made of great ingredients, that are dairy-free, nut-free and kosher.
Well, Elan… you nailed it. Yes… You. Nailed. It.
I have tried a lot of cookies in my gluten-free days, and these cookies are at the tippity-top of my favorites list. Why? The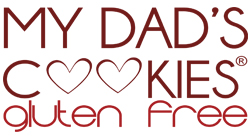 ingredients are top-notch and the varieties are a dream come true those concerned with gluten-free, dairy-free and nut-free products.
Some of my favorite cookies are the Black & White (Shhhhh… I know, I know… these cookies are are a NY thing and I'm from Boston, but I love them anyways!) Coconut Chocolate (Yup.. coconut anything is a good thing, but add in chocolate and it's even better), Vanilla Graham (I love the chocolate drizzled on top!) , and my absolute favorite… the Raspberry Linzer (melt in your mouth raspberry love) YUM! YUM! YUM!
Thank you, Elan for making cookies full of love… without the gluten, dairy and nuts. And for this you are awarded this week's Friday Favorite on BeFreeForMe.com. Congrats!