Thursday, February 28th, 2013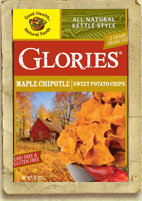 I love a good crunch with my gluten-free sandwich for lunch. But sometimes plain ole' potato chips can be so ho-hum. That's why I was so very happy to discover Glories Maple Chipotle Sweet Potato Chips made by Good Health Natural Foods.
Not only do these chips have a great crunch to them, they also have a sweetened zip of maple chipotle spiciness.
Glories Maple Chipotle Sweet Potato Chips are all natural chips that are made kettle-style. They are are gluten-free, as well as GMO free, and have 0 grams of trans fat.
Good Health Natural Foods also make a bunch of other gluten-free products including Chilean Lime Avocado Oil Potato Chips, Rosemary Olive Oil Potato Chips, and for all you chocolate lovers out there's a Popcorn Pop Chocolate. All of these yummy & good for you reasons are why Good Health Natural Foods is awarded this week's Friday Favorite on BeFreeForMe.com. Congratulations!