Tuesday, February 23rd, 2016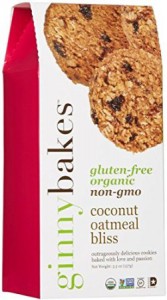 If you love an outrageously delicious, fresh-baked cookie that is made with love & passion, you must check out Ginnybakes Cookies.
The Ginnybakes company was founded in 2010 by Ginny Simon, a gal with a dream to develop the perfect cookie. Her passion for baking, active living and nutrition lead to the development of the GinnyBakes line of baked goods.
I love the conscience effort that Ginny puts into all her cookies. All of her cookies are not only gluten-free (and made in a certified gluten-free facility), but also organic, kosher and Non-GMO.
These cookies are made with "love & passion" because Ginny cares that her customers are getting the very the highest quality ingredients that do not contain anything artificial, and contain no preservatives. I love that the ingredient list on these cookie boxes reads like a list of items I would find in my own kitchen pantry. There is nothing on a Ginnybakes Cookie ingredient list that I cannot pronounce or know what it is.
These cookies taste incredible too, and come in a bunch of awesome varieties that are perfect for adults and kids. Some of the flavors include: Cranberry Pistachio, Chocolate Chip Oatmeal, Ginger Crisp, Double Chocolate, Sweet Cinnamon, Butter Crisp, Chocolate Chip Macadamia, and my two favorites… Chocolate Chip and Coconut Oatmeal Bliss.
Ginnybakes also makes a great line of bake mixes, bars, crumbles (perfect over yogurt or sprinkled on top of gluten-free muffins) and Ginnyminis (tiny bite sized cookies).
All of these reasons are why I have picked up two extra boxes of my favorite Ginnybakes Cookies (Coconut Oatmeal Bliss and Chocolate Chip Love) for the prizes for this Win-It-Wednesday on BeFreeForMe.com.
One (1) winner will be randomly selected to win a box of cookies from the entries received before Tuesday, March 1, 2016 at 11:59 PM EST, and one (1) more winner will be randomly selected to win from the entries received between Wednesday, March 2 and Tuesday, March 8, 2016 at 11:59PM. SO – make sure you enter two times to win!

How can you win?
Easy!
Reply to this blog and tell us what Ginnybakes Cookie looks the best to you. Is it the Cranberry Pistachio? Ginger Crisp? Double Chocolate? Butter Crisp? One of my favorites, Chocolate Chip or Coconut Oatmeal Bliss? Or even one of the many others?? (I know, I know… there are so, so many yummy varieties to choose from!)
Good luck, remember to do like Ginny and reach for your dreams with love & passion, and, as always …
Be Free!
Want to buy? Check out this link on Amazon.com for Ginnybakes Baked Goods