Tuesday, December 30th, 2014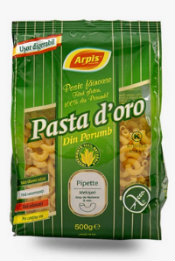 It's the start of the New Year and many folks are looking for new and exciting budget-friendly dinner ideas. One of my favorite ways to make a delicious dinner-on-a-budget is by using gluten-free pastas made by SamMills.
SamMill's Pastas are made from corn. They are available in most grocery stores and come in tons of different pasta shapes… some of my favorite include Penne Rigate, Tubetti, Lasagna Corte, and Bucatini.
The SamMills Pastas are also made of 100% Natural Ingredients, are free of dairy, eggs and gluten, and are low-glycemic, GMO Free and Kosher Pave. I also love that most of pastas cook-up in about 10 minutes, so dinner can be served in a jiff.
And if you are looking for some inspiring gluten-free pasta dishes to start off this New Year check out some of our favorite pasta recipes on BeFreeForMe.com:
Gluten-Free Pasta with Brussels Sprouts, Pancetta and Olives
Gluten-Free Rotini with Red Bell Peppers, Fresh Mozzarella & Arugula
Blackened Red Pepper and Chicken Pasta Salad
Spaghetti with Toasted Pine Nuts, Olives and Parmesan
All of the delicious pasta recipes that await being made are the reason I am so excited that this week's Win-It-Wednesday prize is SamMills! A total of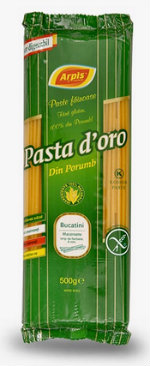 two (yes, 2!) BeFreeForMe.com members will be randomly selected to win a 4-pack prize of one of my favorite SamMills Pastas… the Bucatini… and for those of you that haven't tried Bucatini yet… you must give it a try! It's a thick spaghetti-like pasta with a hole running through the center… perfect for pestos, tomato based sauces and casseroles!
One (1) winners will be randomly selected from the entries received before Tuesday, January 6, 2015 at 11:59 PM EST, and one (1) more winner will be randomly selected to win from the entries received between Wednesday, January 7 and Tuesday, January 13, 2015 at 11:59PM. SO – make sure you enter two times to win!
How can you win?
Easy!
Reply to this blog and tell us which SamMills Pasta product looks the best to you! (Is it the traditional Spaghetti, Ziti or Penne? Or maybe the more adventurous Quadrati or Lasagna Corti?) =)
Good luck, here's to a healthy, happy and delicious New Year… and as always,
Be Free!