Tuesday, August 23rd, 2016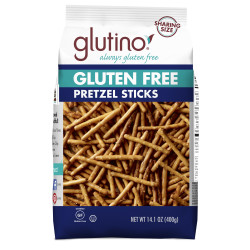 Summer is coming to a close and school days are right on our doorstep. It will be the time of busy mornings and making lunches before we know it!
And in every good lunch box should be a good snack. One of my go-to snacks are Glutino Pretzel Sticks. From the beginning Glutino has been one of my all-time favorite gluten-free brands!
Glutino Pretzels are always in my shopping basket. I love them! Not only are the Glutino products delicious, they are also a brand that I can count on. All the Glutino products are gluten-free and the most can be found in traditional grocery stores – which means less time running around to specialty or natural food stores! Glutino makes my life so much easier!
Besides the pretzels, Glutino also makes tons of other gluten-free products. The variety of products that Glutino offers is exceptional. They seem to make it all, from cookies, breads, bagels, pancake mixes, muffin mixes, frozen pizzas and convenient pasta dishes.
Glutino products can also be used as ingredients in favorite gluten-free recipes too. I use Glutino pretzels in my favorite Congo Bar recipe (check it out here!)
For this Win-It-Wednesday prize I picked up a couple extra bags of the "Sharing Sized" (that would be the jumbo 14.1 ounce bag) Gluten-Free Pretzel Sticks for the prizes for this week's Win-It-Wednesday.  There will be two lucky winners. One (1) winner will be randomly selected from the entries received before Tuesday, August 30, 2016 at 11:59 PM EST, and one (1) more winner will be randomly selected to win from the entries received between Wednesday, August 31 and Tuesday, September 6, 2016 at 11:59PM. SO – make sure you enter two times to win!
How can you win?
Easy!
Reply to this blog and tell us your favorite snack… how easy is that!
Keep snacking, Be cool for school… and as always, Be Free!
Want to buy now? Check out these links on Amazon.com: Glutino Gluten-Free Pretzel Sticks (Pack of 3)