Thursday, December 29th, 2011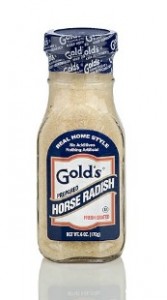 This is the time of year for appetizers. And my favorite? Shrimp Cocktail. Any way you look at it, this appetizer is a winner hands down. Between it being the perfect finger-food (no utensils required here), low in calories and nutritionally sound it is a real crowd pleaser.
But for those of us with celiac disease and on a gluten-free diet, the "cocktail sauce" can be the culprit since it can include hidden gluten and other allergens. That is why I make my own cocktail sauce. And my secret ingredient… Gold's Prepared Horseradish.
Gold's is manufactured by the fourth generation of a  family has been providing quality OU certified Kosher products for almost 80 years, and has quite an extensive list of gluten-free products they manufacturer as well.
My recipe for cocktail sauce is simple and you can find it here. And since prepared horseradish has less than five calories in a one teaspoon, along with virtually no fat and tons of flavor, I plan on using it as my secret ingredient in many recipes for the coming New Year.
Tons of flavor, little to no calories and tons of ways to incorporate into recipes are the reasons this week's Friday Favorite is awarded to Gold's Prepared Horseradish. Cheers & Congratulations!