Tuesday, September 19th, 2017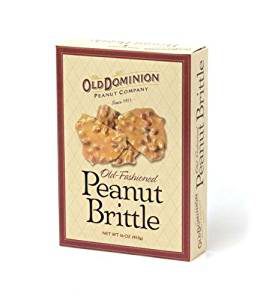 Peanut Brittle is one of those old fashioned and traditional favorite candies that everyone seems to love! And if you are a Peanut Brittle lover, you should check out Old Dominion brand.
I'm nutty about the freshly roasted, salted peanuts, alongside the sweetness of the brittle. It's thin, light & crunchy and tastes like homemade.
I love peanut brittle just not for snacking, but also crumbled on ice cream, baked into cookies, and as a topping for muffins.
The Old Dominion brand is also gluten-free, and also has no trans fats or preservatives.
I picked up a couple of boxes to share with two winners of this Win-It-Wednesday blog post.
One (1) winner will be randomly selected to win a box from the entries received before Tuesday, September 26, 2017 at 11:59 PM EST, and one (1) more winner will be randomly selected to win from the entries received between Wednesday, September 27 and Tuesday, October 3, 2017 at 11:59PM. SO – make sure you enter two times to win!
How can you win?
Easy!
Reply to this blog and tell us what way you'd love to try Old Dominion Peanut Brittle. Is it in baking, on top of ice cream, or just for snacking?
Good luck, it's okay to be a little nutty, and, as always …
Be Free!