Sunday, November 27th, 2011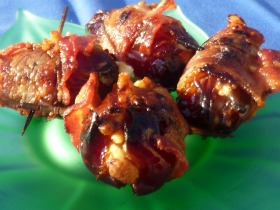 The love affair with these dates started on a beautiful seasonably warm day while overlooking the Inner Harbor in Baltimore.
On a whim, I decided to check out a tappas bar, La Tasca. Their menu was extensive, the staff knowledgeable on some of their gluten-free options, and the views perfect… so it was a clear-cut choice of where to dine. (Oh, did I forget to mention that the sangria selection is to die for too? Loved their Sangria Blanca, a crisp white wine served with sliced peaches, whole cinnamon sticks and peach schnapps… delicious!)
But the best part of this tappas visit was the date. No not the date I was with, but the Datiles con Tocino, a skewered and grilled bacon-wrapped date that is stuffed with blue cheese. A date to die for.
Eating each bite, I was planning to recreate this dish in my own kitchen.
And just this week, I created this dish perfectly. I nailed it. Right down to the slightly caramelized fig, applewood smoked bacon and the tart blue cheese – that quietly takes on a mild entrance after being melted and mated with the sugary figs and salty bacon.
The best part about this quick and easy appetizer recipe is that it only consists of three ingredients and is super simple to make. Look for the figs in the produce department of your supermarkets. Also, the Point Reyes Blue Cheese is gluten-free; along with the Jones Cherrywood Smoked Bacon (which I could write a whole blog post alone just on this bacon because I LOVE it so much).
Following is the recipe, and I hope you enjoy it as much as I and all of my family and friends do too.
Enjoy!
Blue Cheese Stuffed Dates Wrapped in Cherrywood Smoked Bacon
Ingredients:
12-16 fresh dates (I used Madjool dates, but any type of large sweet date will work well)
3-6 ounces blue cheese (I use Point Reyes brand)
6-8 slices of Jone's Cherrywood Smoked Bacon
Directions:
Slice each dates in half lengthwise and remove the pit. Wing open each date, and stuff with a good sized piece of the blue cheese. After stuffing "close" each date.
Cut the bacon slices in half. Wrap a  ½ slice of  bacon around each of the stuffed dates. Secure with a toothpick.
On a gas grill over medium heat, or under a broiler, cook the wrapped and stuffed dates until the bacon is crispy, but not overdone, and the blue cheese is starting to melt.
Serve immediately.