Sunday, December 30th, 2012
If you're looking for a gluten-free appetizer that will be loved by all (aka: even the non-gluten-free folks) check out these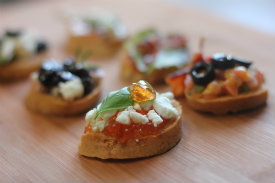 gluten-free crostini appetizers.
Crostini means "little toasts" in Italian which is so fitting, since the secret in making the most crunchiest, savory and flavorful crostini lies in the perfect toasting of the bread.
I made my crostinis with Udi's new French Baguettes. The texture of these baguettes is light and airy. They sliced effortlessly and toasted to perfection.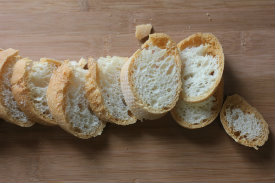 The first step on making crostini is to slice the baguette at a 45 degree angle using a serrated knife. Next, brush with olive oil and place under a broiler until the toasts are just starting to take on a light golden color. Keep your eye on them when toasting, and be careful not to over broil. When the bread is light yellow in color and still glimmering with olive oil you know you have achieved the perfect little toast.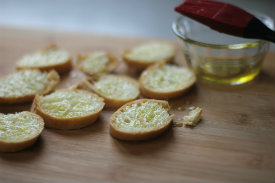 After you remove the little toasts from the broiler you top them with ingredients. This is where some folks may scratch their head and be at a loss. My only rule of thumb is that you select ingredients that complement each other. Ingredients that give you a medley of flavors that provides the perfect balance in just one simple bite.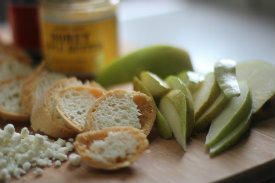 Need some inspiration? Look at a menu of a gourmet pizza shop and use the gourmet toppings as inspiration for your gluten-free crostini creations.
Here are some of my favorite scrumptious crostini toppings that I've come up with: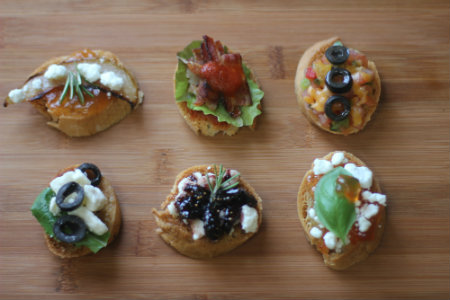 Top Row; Left to Right (click on links below for recipes):
–    Broiled Pear and Apple Butter Crostini with Goat Cheese and Rosemary
–    The BLT: Crostini with Tomato Sauce, and topped with a Baby Lettuce Leaf and Smoky Bacon
–    The Southwestern: Tomato Salsa with Sharp Cheddar and Black Olive Crostini
Bottom Row; Left to Right (click on links below for recipes):
–    The Greek: Feta and Black Olive Crostini with a Greek Dressing Drizzle and Baby Spinach Leaf
–    Goat Cheese with Fig Compote and Rosemary Crostini
–    Red Pepper Jelly Crostini with Goat Cheese and Basil
Do you have a Crostini Topping you'd like to share? Please do in the comment section  below!