Thursday, July 29th, 2010
Yes that's right… you read the heading correctly! Gluteen-Free Burritos!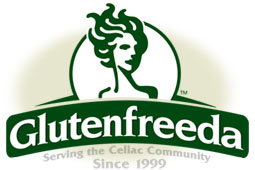 I tried these a while back at a trade show and was mesmerized at the thought of actually eating a burrito once again. In fact, I circled my way back to the GlutenFreeda Booth a number of times to get more samples of these burritos, since they are THAT good!
These burritos come in 4 glutenfree-licious varieties: Vegetable Bean and Cheese; Breakfast Beef; Non-Dairy Vegetarian and Chicken & Cheese.
The best part about these burritos is that they are perfect for a quick little meal. My favorite, the Chicken & Cheese, has only 227 calories and 9 grams of protein. Plus, they are made with all natural and organic ingredients; and manufactured in a dedicated gluten-free facility. And did I mention that they can be microwaved right in their own wrapper, and are ready in mere minutes?
All of these reasons, and mucho more, are why GlutenFreeda's Gluten-free Burritos are this week's BeFreeForMe's Friday Favorite!