WIN-It-Wednesday: riceworks Brown Rice Crisps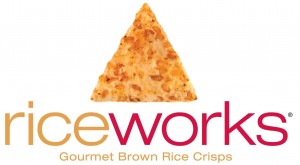 After giving riceworks Brown Rice Crisps a try one year ago, I was hooked after the first chip. Made of brown rice, gluten free, high in fiber and 33% less fat than other salty snacks, I knew I had found a snack that not only tastes good – but I could feel good about eating.
Since that time I have enjoyed Sea Salt riceworks at breakfast with chopped hard-boiled eggs, love the Salsa Fresca riceworks in replacement of boring corn chips in nacho recipes; have finely ground Sweet Chili riceworks to use as a phenomenal breading on boneless chicken breasts, and my favorite secret ricework trick, using a handful of coarsely Cinnamon riceworks as a fiber-packed "mix-in" for vanilla ice cream on these hot summer days (watch out Cold Stone Creamery!).
For me riceworks better… as a snack and for many other creative recipe ideas!
It seems that other folks, some like me on a gluten-free diet as well as others that just like good eats, have found some creative places and ways to eat and use riceworks in their day-to-day snacking and cooking. That's why riceworks has come up with two great promotions this summer! Each of the programs encourages us to share why riceworks is indeed better… while taking a chance at winning some cash and other fantastic prizes, as well as becoming a published & publicized chef! Check out this audio note to find out more about these promotions.
Following is an overview of each of these two promotions:
Are you throwing a party or event this summer with your family, friends, church group, fund raising organization, or long-lost college buddies? Looking to invite one more person? Well…. Invite riceworks!!
riceworks would love to join you and make your event way more fun. The program is called How riceworks Better. If you tell riceworks about your summer event or gathering you could win $4000 (YES folks… $4000) plus tons of riceworks samples to make your event even more fun than you could possibly imagine.
For those of you that love to cook or have a secret recipe you prepare with riceworks Brown Rice Crisps, this promotion is for you! riceworks is creating a cookbook. They are looking for recipes submitted by 50 would-be foodies authors, like you, to create a one-of-a-kind cookbook in which all proceeds will be donated to charity.
Watch out Julia Child, Jamie Oliver and Rachael Ray! YOU may be on your way to stardom and publication! Share your ricework recipes today on the riceworks Recipeworks website and may the best recipe win!
And if these two promotions and chances to win wasn't enough fun for one summer, I was thrilled when the folks at riceworks® asked to sponsor the prize package for this weeks WIN-It-Wednesday on BeFreeForMe … and the prizes are so awesome! With even a second BONUS chance to WIN! Here are the details on the prizes:
TWO Winners' will each receive… One (1) CASE of free riceworks® product (that's 12 bags!) in the flavor of the winner's choice, PLUS a $25 gift card for the supermarket of your choice!
A THIRD Winner will receive the same prize as above but this winner has to also be a fan of riceworks on Facebook… PLUS leave a comment on this blog as instructed below. (Click here to become a fan of riceworks on Facebook.)
How do you win?
Easy!
Reply to this blog and lets us know what flavor of riceworks you would choose if you are picked the winner. Also feel free to let us know your favorite time or way to eat riceworks. (Me? I love the Sweet Chili. I love to use them to scoop up some fresh tuna salad for lunch!)
Also, the contest ends on Tuesday, July 20th at 12 midnight EST  – so enter now and become a fan of riceworks on Facebook too!
Good Luck, Remember to give into the goodness… and as always,
Be Free!
Tags: riceworks bettter contest, riceworks brown rice crisps, riceworks recipeworks contest, Win-It-Wednesday