Tuesday, September 22nd, 2015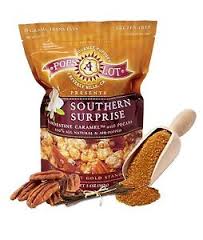 Do you remember eating Cracker Jack's as a kid? The sweet popped corn jumbled with the salty peanuts… and who could forget the prize nestled at the bottom of the box? Cracker Jacks were one of my all-time favorite snacks as a kid.
That is why I was so excited to find Popsalot Popcorn snacks! I like to nickname Popsalot "Cracker Jacks for Big Kids.
The concept of Popsalot is a lot like Cracker Jacks… the sweet glazed popcorn co-mingled with savory nuts. But the difference is in the "big-kid" flavors and tastes of Pop A Lot. Some of the flavors include: Southern Surprise: Air-popped popcorn and slow-roasted pecans nestled in pecan infused caramel; Honolulu Aloha: Air-popped popcorn and slow-roasted macadamia nuts nestled in macadamia infused caramel; or the Brazilian Samba: whole roasted cashews and air-popped popcorn folded in cashew-infused clandestine caramel.
The intricate flavor combos and blends of Popsalot will have you hooked at the first bite, PLUS all of the Popsalot varieties are certified gluten-free… which  beats any prize at a bottom of box!
On my last shopping excursion I picked up extra bags of my beloved Popsalot for this WIN-It-Wednesday prize on BeFreeForMe.com!
A total of two (yes, 2!) BeFreeForMe.com members will be randomly selected to win a TWO bags of Popsalot Gourmet Snacks. One (1) winner will be randomly selected from the entries received before Tuesday, September 29, 2015 at 11:59 PM EST, and one (1) more winner will be randomly selected to win from the entries received between Wednesday, September 30 and Tuesday, October 6, 2015 at 11:59PM. SO – make sure you enter two times to win!
How can you win?
Easy!
Reply to this blog and tell us what Popsalot Gourmet Popcorn looks the best to you (my favorite? The Southern Surprise… I love the pecans and caramel!) Good luck, look for the prize in everything… and, as always …
Be Free!
P.S. Join me in following Popsalot on Facebook and Twitter!