Tuesday, January 24th, 2017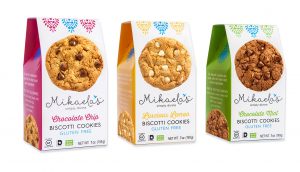 Valentine's Day is right around the corner, so I am starting to think of sweet treats… both for myself and to share. One of my new favorite brands of cookies is Mikaela's Simply Divine.
I found these cookies by chance while poking around shopping and was immediately tantalized by the flavors and the fact the cookies are Biscottis … yet shaped round like regular cookie.
And yes… these cookies are truly simply divine!
And the flavors! My favorite is the Chocolate Mint Biscotti, but they also have a Luscious Lemon and a traditional Chocolate Chip.
These cookies are also Non-GMO, kosher, all natural, and contain no trans fat… as well as gluten-free.
A total of two (2) BeFreeForMe members will be selected to win a package of the Mikaela's Simply Divine Chocolate Mint Biscotti Cookies.  One winners will be randomly selected from the entries received before Tuesday, January 31, 2017 at 11:59 PM EST, and one more winners will be randomly selected to win from the entries received between Wednesday, February 1 and Tuesday, February 7, 2017 at 11:59 PM. SO – make sure you enter to win two times!
How can you win?
Easy?
Reply to this blog and tell us what flavor of the Mikaela's Biscotti Cookies look the best to you! (Is it the Chocolate Chip? The sassy Luscious Lemon? Or delectable Chocolate Mint?)
Good luck, life is simply divine… and as always…
Be Free!