Tuesday, May 15th, 2012
I just love it when one of my all-time favorite gluten-free brands comes out with new products. Like last Spring when Rudi's came out with their hamburger and hotdog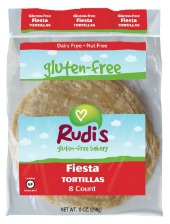 rolls. THAT was a treat!
That's why I was so excited after trying the newest edition to  Rudi's Gluten-Free Breads family of  products: TORTILLLAS!
These tortillas are delicious. Soft, pliable and dying to be wrapped around your favorite fillings.
And if right about now you are thinking to yourself: "What's the big deal? There are other gluten-free tortillas on the market" – Get THIS! … They come in flavors… yes FLAVORS! Besides the versatile Plain Tortillas, there are also 2 other varieties: Spinach and Fiesta. They all top out at 5 grams of fiber per serving, and are "made with stuff you can pronounce and ingredients you recognize."
The Fiesta Tortilla is made with whole grains spiced up with bell pepper, jalapeno, onion and garlic flavors. This spicy wrap is calling Mexican food and spice-addicts everywhere. Hola Fiesta!
The Spinach Tortilla is perfect for the veggie lovers in all of us. Pack it with a soft spreadable herbed cheese (or cheese substitute) and layer it with fresh cut veggies; or enjoy sliced turkey, tomatoes and cheddar for a traditional lunchtime treat.
And let's not forget the Plain Tortilla… although not as fancy and spiced up as the others this wrap is the most versatile of the round-up. I love to make breakfast sandwich wraps… stuffed with egg, ham, and a slice of good old American cheese. A perfect wake-me-up!

I am so thrilled that Rudi's Gluten-Free Bakery will be sponsoring the next two week's Win-it-Wednesday's on BeFreeForMe.com!
A total of FOUR (Yes… 4!) BeFreeForMe members will be selected to win a gift pack of Rudi's Gluten-Free Tortillas – one of each of the three flavor. Two winners will be randomly selected from the entries received before Tuesday, May 22, 2012 at 11:59 PM EST, and two more winners will be randomly selected to win from the entries received between Wednesday, May 23 and Tuesday, May 29, 2012 at 11:59PM. SO – make sure you enter to win two times!
How can you WIN?
EASY!
Reply to this blog and tell me what Rudi's Tortilla variety (Plain, Spinach or Fiesta) sounds the best to you, and what you would wrap up in it (Me? I'm sticking with my Breakfast Wrap mentioned above!)
Good luck, Thank you Rudi's for the wraps and rolls …and as always,
Be Free!
P.S. Also, make sure you check out the campaign that Rudi's is holding on their Facebook page . It's called Spread the Bread. When you download a $1.00 off coupon, you can designate what National Celiac Organization you want Rudi's to donate a $1.00 too. It's a great promotion – so check it out!