Monday, December 22nd, 2014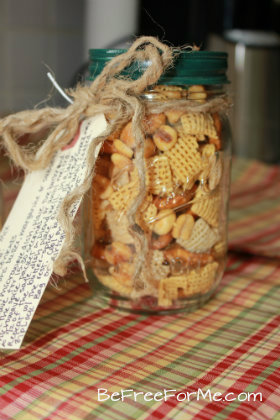 Eeeekks! Christmas is almost here… and if you're like me you're still looking for those "little something" gifts that you bring to holiday parties and have on hand for last minute gifting.
My Crunchy Chex Snack Mix is the perfect hand-made gift. By giving just the key ingredients and having the recipient make the snack mix themselves by adding melted butter, the shelf-life is longer than giving a prepared mix. However, you can also prepare the mix in entirety and give the snack mix "ready-to-eat" if you want too!
This single-serve snack idea has a cute-as-a-button presentation. It's great for anyone on a gluten-free diet  since it's simple to prepare and enjoy in an office, dorm room, or even right at home.
The only extra two things your gift recipient will need to make this salty snack is 1 ½ tablespoons of butter (or margarine, or butter substitute). So it is quick, easy and convenient. To make things easier for the recipient for when they make the mix, you can even include the parchment paper which is needed to cool the snack mix after its been microwaved – just roll the parchment and tie it with the twine on the outside of the mason jar. Anyone you give this gift to will appreciate your crafty thoughtfulness the next time a snack attack creeps up. Enjoy and happy gluten-free gifting!
Gluten-Free Crunchy Snack Mix
Supplies Needed:
Four (4) pint sized mason jars (I painted the tops for a more finished & festive look… but not necessary)
Four (4) snack sized ziplock bags, or small zip-top bags found in a craft store
Optional: Four (4) 20" lengths of Parchment paper (I used unbleached – I like the color better!)
Twine
Four (4) shipping tags for writing directions for preparation on the back… and a cute note on the front … I like "For Gluten-Free Snack Attacks" =)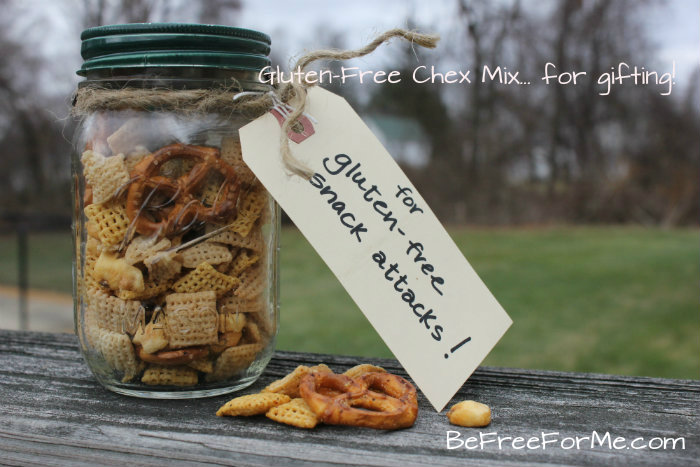 Ingredients Needed:
1 ½ cup Corn Chex
1 ½ cup Rice Chex
1 cup mini gluten-free pretzels
½ cup corn nuts (Check label for allergens)
¼ cup salted peanuts (omit if concerned with a nut allergy)
½ teaspoon (heaping) garlic powder
1/4 teaspoon (heaping) chili powder
1/4 teaspoon (heaping) black pepper
1/4 teaspoon (heaping) of Mrs. Dash Lemon-Pepper Seasoning
1/4 teaspoon salt
1/8 teaspoon (heaping) of paprika
1 teaspoon red pepper flakes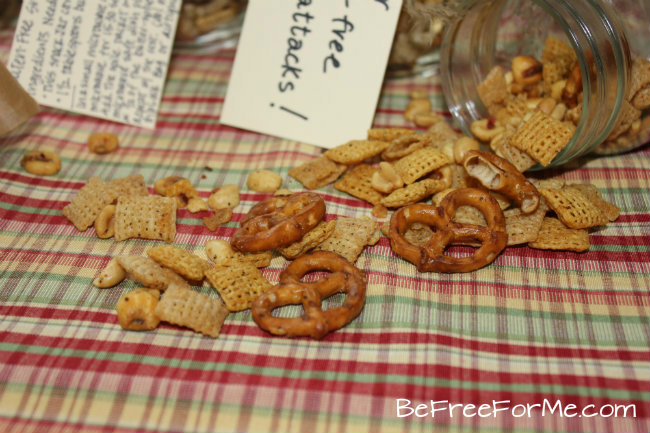 Directions:
In a large mixing bowl combine the first five (5) ingredients. Toss gently to mix and distribute evenly in the four (4) mason jars, being careful to include the peanuts and corn nuts (which may fall to the bottom of the mixing bowl) into each jar. Leave about ½" on the top of each jar.
In a small mixing bowl combine the last seven (7) ingredients. Blend well. Evenly distribute into the 4 small plastic bags. Remove air from each spice bag, and seal well. Roll up and place on top of the each jar. Fill in extra room with additional Chex mix, peanuts, pretzels or corn nuts, if desired. Place cover on tightly.
If desired, fold the parchment paper in ½ lengthwise and roll into a tube. Tie each with a bit of twine.
With additional twine add the preparation directions that are written on shipping tags. (See preparation directions below).
Preparation Directions: (Include these with the gift)
Gluten-Free Snack Mix
Ingredients Needed:
Contents of this Snack Jar
1 ½ tablespoon of butter, margarine or substitute
In a small microwave bowl, place 1 ½ tablespoons of butter (or margarine or butter substitute) and microwave for 15-30 seconds, or until melted. Add the spice packet to the melted butter and mix well.
In a large microwave safe bowl place about ½ of the snack mix and add in about ½ of the melted butter-spice blend. Toss gently until the snack mix is well coated. Add in the rest of the snack mix and butter-spice blend, and repeat. Microwave for about 3 minutes, mixing 1/2 way through cooking time.
Place the Snack Mix on the parchment paper (or cookie sheet or tin foil) and let cool. Store in Ziplock bag or airtight container.