Thursday, October 30th, 2014
If you're looking for a delicious, but easy, made-from-scratch cake that combines all the yummy flavors of the Fall you have to try this Apple Spice Cake that is topped with a creamy Butterscotch Caramel Cream Cheese Frosting.
The cake is easy enough, since it is made with an all-purpose gluten-free flour blend and applesauce, rather than fresh apples. No need for numerous measurings, peeling, coring and parings.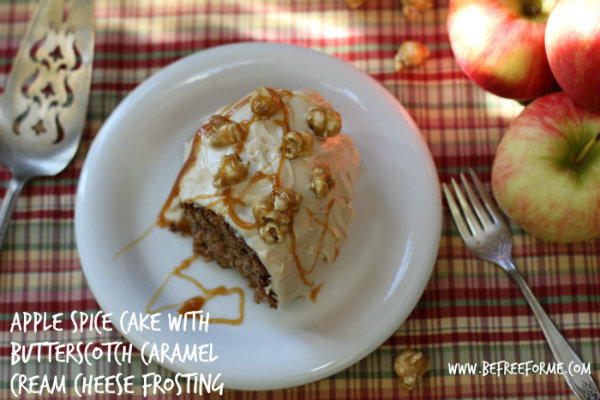 And the frosting… oh good lord… the yummy frosting. The creamy tartness of the cream cheese, is blended ever so delicately with the sweet Butterscotch Caramel to create a sweet and tangy frosting that is worthy of eating on its own. I made this cake in a tube pan, and was left with an abundance of frosting left over to enjoy by the spoonful (or you can make it in a sheet pan for a more traditional cake.) Any way you bake it or slice it, the result will be true yumminess.
For extra Halloween fun, top the cake with a handful of gluten-free caramel corn. Your goblins will gobble it right up!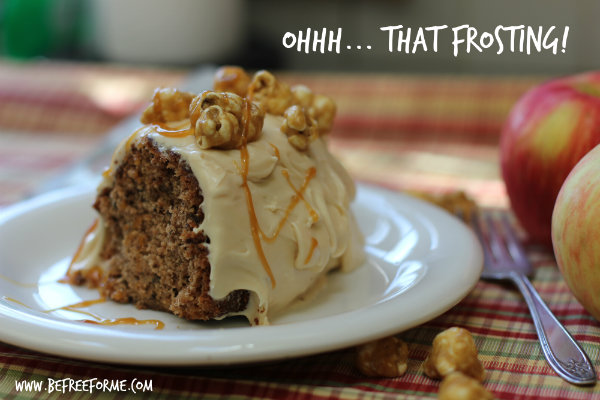 Apple Spice Cake
Preheat oven to 350 degrees F.
Grease the pan and set aside (This cake can be made in a 9" tube pan or sheet pan )
Ingredients:
1 cup of granulated sugar (sifted)
½ cup (one stick) of butter (softened)
1 egg
1¾ cups of all-purpose gluten-free flour blend – sifted, with about 1/8 of a cup set aside
1 cup of golden raisins (or brown raisins if that is what you have on hand)
1 teaspoon baking soda
½ teaspoon salt
1 ½ teaspoon ground cinnamon
½ teaspoon ground cloves
1 cup of slightly sweetened apple sauce
¾ cup of walnuts (Slightly crushed. Note:  Easily crush the walnuts by putting them in a ziplock bag and press gently with the back of a serving spoon)
Directions:
In a large bowl, beat the butter until creamy. Slowly add in the sugar and continue to blend until light and fluffy. Next beat in the egg until blended.
In a small bowl, place the raisins and dust with the 1/8 cup of the gluten-free flour blend. Toss to coat. Set aside.
Add the baking soda, salt, cinnamon and clove to the remainder of the gluten-free baking mix. Slowly add to the butter/sugar/egg mixture and beat until well blended. Place the applesauce into a microwave safe bowl and heat about 1 minute in the microwave. Add the apple sauce to the batter, and beat again until just blended.
Next, add the flour-dusted raisins and the nuts into the batter and beat, on low speed, until blended.
Pour batter into the prepared pan and bake at 350 degrees for about 30-40 minutes. Watch cake carefully. The cake is done when a toothpick inserted in the center comes out clean.
When cool, remove cake from pan and frost with Creamy Butterscotch Caramel Cream Frosting. Top with a drizzle of Butterscotch Caramel Sauce and a sprinkle of Caramel Corn, if desired.
Creamy Butterscotch Caramel Cream Cheese Frosting
Makes enough frosting for a 2-layer cake.
Ingredients:
8-ounces of Cream Cheese or Neuchatel Cheese – softened
4 tablespoons (1/2 stick) or butter – softened
2 teaspoons vanilla extract
½ cup of Butterscotch Caramel Sauce /Topping, plus extra for drizzling over the top of the cake once frosted (I used Mrs. Richardson's which is gluten-free!)
1-pound box of Confectioners' Sugar (sifted)
Directions:
In a large bowl beat the cream cheese and butter together until smooth and creamy. Add the vanilla and the Butterscotch Caramel sauce continue to beat until well blended. Next slowly add the sifted Confectioners' Sugar to the mixture and blend, on low speed, until mixed. After all the sugar is blended, put blender on high speed and blend for another 3 minutes.