Thursday, October 2nd, 2014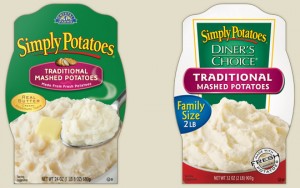 We all know the drill. First thing in the morning you have high hopes of getting out of work on time, not hitting any traffic on your commute, and getting home in plenty of time to make a delicious home cooked dinner for your family.
But then reality strikes. We end up working late, sitting in a traffic jam and finally getting home to a hungry gang asking, "What's for dinner?"
These are the nights that I count on Crystal Farms Simply Potatoes. These mashed potatoes are so quick and easy to make (less than 5 minutes in the microwave!) and taste just like homemade mashed potatoes (trust me… and I am picky when it comes to my mashed potatoes!).
My favorite variety is the Traditional Mashed Potatoes, but they also come in tons of other gluten-free varieties such as Country Style, Garlic Mashed, Sour Cream & Chive, and even a Mashed Sweet Potato.
For convenience, partnered with great homemade taste, this week's Friday Favorite is awarded to Crystal Farms Simply Potatoes. Congratulations!