Tuesday, April 28th, 2009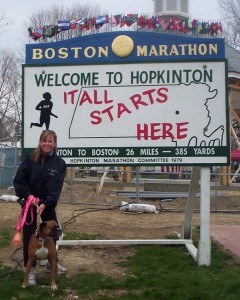 One day a year, on the third Monday in April, my tiny world, my universe, becomes larger than life.
Hopkinton, Massachusetts, the tiny town in which I live and work, is the start of the Boston Marathon, the world's oldest annual marathon, and one of the world's most well-known road racing events.
The BeFreeForMe offices are located in downtown Hopkinton right at the starting line, and my home is right down the street, the one that is lined with runners anxiously waiting in corrals; apprehensively waiting to begin a challenge that they have been training for months, or even years.
The weather this year was chilly, and windy. The runners were lined up, looking athletic, lean and muscular; obviously ready physically for the task ahead. But what surprised me was the looks of doubt that some of the runners had. I couldn't help but think: Maybe they had missed a training? Maybe they were sporting a slight cold? Maybe they were not use to the New England temperamental weather? Did they now fear Heartbreak Hill? But why the doubt…visually these people were obviously physically ready for the 26.2 mile task ahead.
The deer-in-the-headlights look of these doubters reminded me of the expression many newly-diagnosed celiacs and food allergic have – including, I am sure, the look I had myself. The task we all face seems overwhelming, yet we are all physically ready to tackle it, one step at a time. Our obstacles may not be a missed training, sniffles, or rainy weather; yet we have obstacles of our own to undertake one incident, and, one day, at a time.
Staying focused, using self-encouragement, remembering our mission of health and rising to the challenge ahead are things we all must remember when that doubt sneaks in.
And remember those crowds. Those that are cheering us all on. They are the positive energy that will get us through the Heartbreak Hills of life.  
And lastly, remember it "All Starts Here"… right here at home – where your biggest supporters and fans will be cheering you on, every day in the marathon of life as a celiac or food allergic.
*Note: The cute puppy in the photo with me is my incredibly sweet Boxer, Sadie. =) She is very excited about the thousands of visitors she saw on her daily "run" on Marathon Day; Hence, she was having a hard time posing for the camera. Maybe the next photo shoot.