Celebrity Apprentice Goes Gluten-free?!
What a great plug for gluten-free items & awareness on the Celebrity Apprentice tonight! Team Kotu and Athena had the task of coming up with a new meal and marketing plan for Schwan's, a company that delivers meals "right to your door with no muss or fuss, making 'convenient' seem like an understatement".
Well, Team Athena (members include: Melissa Rivers – TV Host/Produce, Jesse James – Entrepreneur/TV Host, Annie Duke – Poker Champion, and Brande Roderich – Playboy Playmate) won with the GLUTEN-FREE Triple Play Turkey Meatballs!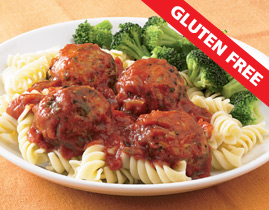 When Donald announced the challenge at the start of the show, I thought to myself, "I would market a gluten and allergen-free meal". Then, before I knew it Annie Duke starts talking about developing a gluten-free dinner! I actually jumped up clapping!
The presentation Team Athena made to the executives at Schwan's was good, but I thought it needed a bit of a marketing tune-up (and that's coming from a Gluten-free Marketing Foodie) – but they got the point across about gluten-free being one of the fastest growing segments, and even chatted up wheat/ gluten-intolerances and celiac disease!
Check out the Schwan's website to see about the Celebrity Apprentice episode and also info on the gluten-free meal – including how to order it.
Oh, and by the way, Mr. Trump and executives at Schwan's… I think this idea is more than a triple play… the name may have to be changed to "Homerun Turkey Meatballs.
Just two cents coming from a Gluten-free Marketing Foodie.
Tags: celebrity apprentice, gluten free, schwans