Tuesday, July 28th, 2015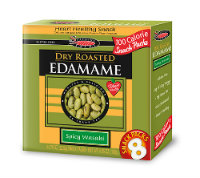 I've been a fan of Seapoint Farms Dry Roasted Edamame for a long time. These dry roasted Edamame are a crunchy, tasty and healthy way to add more protein in your diet… all while enjoying a perfect snack.
I've tried all three of the varieties, including the Lightly Salted, which are great as a snack or a salad topper; the Goji Blend, dry roasted edamame mixed with Goji berries; and my new favorite, Wasabi, which adds a nice spiciness and kick to snacking.
I love that these all-natural dry roasted edamame contain simple all natural-ingredients. The Spicy Wasabi variety only has three ingredients – soybeans, sea salt and wasabi powder. So there's no hidden ingredients – only all-natural goodness.
And not only are they packed with protein, they also contain all 8 essential amino acids and add no cholesterol or trans-fats to your diet. Plus all of the Seapoint Farms dry roasted and frozen products are gluten-free.
These super snacks are also versatile, since they make a great addition atop your salad or added to your favorite homemade trail mix. Make sure to check out all the recipe ideas on the Seapoint Farms website.
I was so excited to find my new favorite snack, the Spicy Wasabi Dry Roasted Edamame, in my local store so I picked-up an extra two boxes to feature on this week's Win-It-Wednesday giveaway!
A total of two (yes, 2!) BeFreeForMe.com members will be randomly selected to win a 100 Calorie Snack package box of the Wasabi Seapoint Farms Dry Roasted Edamame. One (1) winner will be randomly selected from the entries received before Tuesday, August 4 2015 at 11:59 PM EST, and one (1) more winner will be randomly selected to win from the entries received between Wednesday, August 5 and Tuesday, August 11, 2015 at 11:59PM. SO – make sure you enter two times to win!
How can you win?
Easy!
Reply to this blog and tell us your favorite healthy snack-on-the-run. Good luck, keep snacking healthy… and, as always …
Be Free!
P.S. Want to buy Seapoint Farm Dry Roasted Edamame? Check out this link on Amazon.com