Tuesday, September 8th, 2015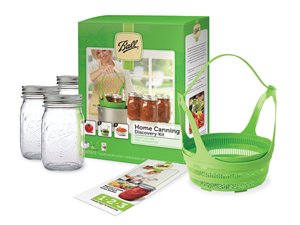 If you ever thought about canning, but thought it was too hard or complicated you need to hear about the Home Canning Discovery Kit from Jarden Home Brands, the makers of Ball Canning Jars.
Once a couple of years ago, I tried canning. But it was difficult to know where to start, what recipes to try and how to navigate the jars full of veggies and fruits in and out of the boiling water without burning myself, breaking the jars or making a mess.
That is why I am so excited that Jarden Home Brands sent to me their new Home Canning Discovery Kit along with a cookbook packed with tons of fabulous canning recipes (Caribbean Peach Chutney, Zesty Zucchini Relish or Sweet Apple Cider Butter anyone?) .
The folks over at Jarden Home Brands are the experts when it comes to canning and preserving. I love the way they make things so simple and basic. There's no getting overwhelmed! The have a super website that has everything you need to know about canning fruits and veggies. The website goes over it all…  from getting started with canning, recipes, figuring out how much pectin (a naturally occurring carb found in fruits and veggies that aids in the gelling of your jellies and jams) you'll need, and more.
The Home Canning Discovery Kit includes three (3) jars for fresh preserving with the lids and bands, a Beginners Guide Book to Canning and Recipe Booklet and the super-duper patent pending canning rack with lifter. The kit makes canning super easy and effortless.
I LOVE the canning rack and lifter. It makes lifting the cans in and out of the boiling water stress-free. Plus, it is small enough to store compactly and neatly… so there is no cumbersome contraption that I have to find cabinet space for. (And if you're like me… my cabinet space is precious space!)
This past weekend I had an overflow of cucumbers in my garden, so I dug out my family's super easy Classical Pickle Recipe and made several jars of Dill Pickles (for the recipe, photos and how-to's make sure to check out my blog post!) This recipe is a great recipe for beginner canners, since it is simple to prep and assemble.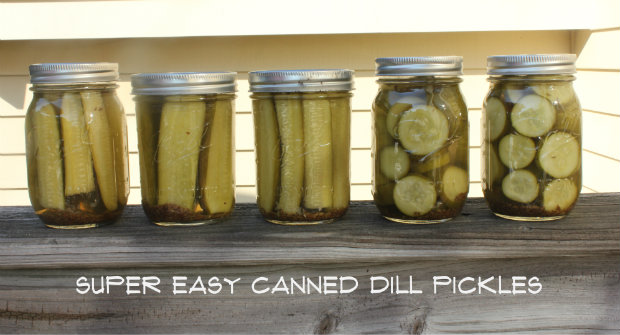 And… lucky for us… Jarden Home Brands is sponsoring this Win-It-Wednesday on BeFreeForMe.com!
A total of two (yes, 2!) BeFreeForMe.com members will be randomly selected to win The Home Canning Discovery Kit packed with three canning jars, recipes and how-to's, along with the nifty Canning Rack with lifter, that I love so much! One (1) winner will be randomly selected from the entries received before Tuesday, September 15, 2015 at 11:59 PM EST, and one (1) more winner will be randomly selected to win from the entries received between Wednesday, September 16 and Tuesday, September 22, 2015 at 11:59PM. SO – make sure you enter two times to win!
How can you win?
Easy!
Reply to this blog and tell us what you would like to try to can (is it pickles, salsa, relish, jam or jelly?) or what canning recipe on the Jarden Home's FreshPreserving.com website looks the best to you (Maybe it's the Apple Jam, Antipasto Relish or Bread & Butter Pickles?)
Good luck, Remember if you think you Can, you CAN! And, as always …
Be Free!