Tuesday, November 29th, 2011
Cookies and Milk. A childhood all-time favorite. An after school snack. A comfort food with fond memories. The ultimate in food dunking.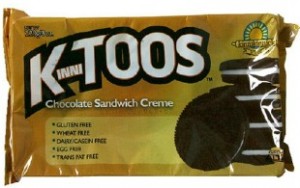 And the best cookie to dunk, at least according to those in my gluten-free world, are the Kinnikinnick Kinni-TOOS Sandwich Creme Cookies.
These cookies are not just for dunking either. I use them in many recipes, including as a substitute gluten-free cookie for an "Oreo" Pie Crust, or crumbled-up and mixed-in to Sweet Cream Ice Cream… My gluten-free Stone Cold Creamery Style treat I make for myself right in my own kitchen.
I also love the variety of these cookies: The original Chocolate Sandwich Creme (my favorite), the very vanilla-ry Vanilla Sandwich Creme, and the NEWEST addition, the chocolate lovers Fudge Sandwich Creme.
Another bonus is that these cookies are not only gluten-free, but also nut-free and dairy-free.
Any way you dunk it, crumble it or mix it… these cookies are keepers.
That's why I was so excited when I discovered that Kinninkinnick Kinni-TOOS Sandwich Creme Cookies were sponsoring the next two week's WIN-It-Wednesday on BeFreeForMe.com.
Two lucky winners will win three packages of these delicious cookies!
How can you win?
Easy!
Reply to this blog and tell us your favorite cookie memory (it can be about baking, a certain kind of cookie, fun cookie stories… anything!) Me? One of my fondest memories as a little girl was sitting with my Mom having a cup of tea … but now that I look back, I really think it was just warm water with lemon in it  =) and dunking cookies. Funny it's the simple things that give you the warmest memories.
One (1) winner will be randomly selected from the entries received before Tuesday, December 6, 2011 at 11:59 PM EST, and one (1) more winner will be randomly selected to win from the entries received between Wednesday, December 7 and Tuesday, December 13, 2011 at 11:59PM. SO – make sure you enter to win two times!
Good luck, Keep those cookies dunking… and as always.
Be Free!
Note: Want to buy some Kinnikinnick Crème Sandwich Cookies for yourself? Check out these links on Amazon.com, have it delivered right to your door, AND get FREE SUPER SAVER SHIPPING!
KinniToos Chocolate Sandwich Creme, 8-Ounce Packages (Pack of 6)
KinnitToos Vanilla Sandwich Creme, 8-Ounce Packages (Pack of 6)
Kinnitoos Cookie – Fudge Cream Sandwich Gluten Free, 8-Ounce (Pack of 3)