New England Autumn Chicken Cordon Bleu: A Blue Ribbon Winner!
Isn't it great when you make a dish that everyone raves about? The type of dish that you wish you made double of so you could have leftovers the following day?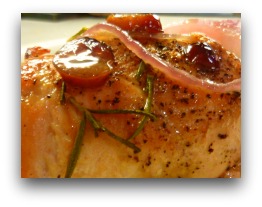 Well, New England Autumn Chicken Cordon Bleu is one of those dishes.
This dish started out as a blank stare into my refrigerator. With "nothing to eat in the house" with the exception of defrosted chicken breasts and a bunch of baby arugula, my mind was telling me to make a simple tossed salad topped with grilled chicken breast… but my stomach was rumbling telling me no.
After all, grilled chicken on a bed of greens is sooo last season.
That's when I decided that what I really craved was warm, homey, comfort food. A dish that bakes in the oven and fills the kitchen with warm spices; a dish that leaves everyone with their belly full… and a smile on their faces. A dish that is fitting for this season.
So, with a little rummaging through my cabinets and refrigerator I came up with one of my best recipes yet – New England Autumn Chicken Cordon Bleu served with a side of Maple Spiced Butternut. Both recipes follow:
New England Autumn Chicken Cordon Bleu
Delicious served with Maple Spiced Butternut as a seasonal and complimentary side.
4 thin sliced chicken breasts
3-4 ounces of spreadable goat cheese (or 3-4 cheese slices – such as Asiago)
4 Canadian bacon rounds (I use Jones brand)
About 2 cups of Arugula or baby spinach
3 thick cut slices of red onion
½ cup of Craisins
1 tablespoon fresh rosemary, coarsely chopped
4-5 tablespoons olive oil
Salt and pepper, to taste
2 teaspoons of cinnamon
¼ cup of maple syrup
Preheat oven to 350 degrees F.
Place the chicken breasts on a cutting board. Make sure that they are thin sliced. If more thinness is needed, pound with a kitchen mallet.
Place one slice of Asiago cheese on each breast. Top with a slice of Canadian bacon and about ½ cup of the arugula or baby spinach. Roll and secure with a toothpick. Season with the salt and pepper.
In a large skillet, coat the bottom with olive oil, and cook the chicken roll-ups for about 4 minutes each side until browned.
Remove from the skillet and place in a baking dish that has been lightly oiled. Cover the chicken roll-ups with the red onion slices, rosemary and the Craisins. Sprinkle with a bit more salt, pepper and the cinnamon. Drizzle with the maple syrup.
Cover with tin foil and cook for about 1 hour until the chicken is cooked through and the juices run clear when cut into the thickest part of the chicken roll-ups.
Serves 4.
Maple Spiced Butternut
1 large butternut squash
1 teaspoon cinnamon
1 teaspoon nutmeg
2 teaspoons brown sugar
3 tablespoons butter (or substitute for dairy-free)
¼ cup of maple syrup
Preheat oven to 350 degrees F.
Wash and pat dry the butternut squash. Peel the squash and cut into 1-2" cubes. Place in a shallow baking dish and cover the squash with about 1/2" of water. Cover and cook the squash for about 45 minutes to 1 hour, or until it is soft.
Remove the squash from the baking pan and drain very well. Place in a large bowl and add the butter (or alternative), spices and the maple syrup. Toss with a spoon.
Using a potato masher, mash until the squash is soft. Serve hot.
Serves 6.
Tags: Delicious Gluten-free recipes, Gluten Free New England Autumn Chicken Cordon Bleu