Thursday, March 31st, 2011
Looking for a rich and creamy milk alternative that is gluten-free, lactose-free, dairy-free, soy-free and sugar-free? Then try Blue Diamond Unsweetened Vanilla Almond Milk.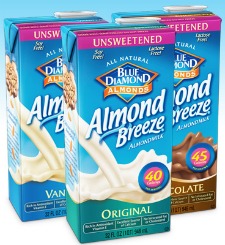 I just tried this Almond Milk about 3 weeks ago, and I have been hooked since. Not watery and not chalky this is the perfect milk alternative for those with special dietary needs.
Made of almonds, Blue Diamond Unsweetened Vanilla Almond Milk has just a subtle hint of vanilla and is perfect by the glass, over my gluten-free cereal, and even as a creamer in my coffee. And I can't wait to make a vanilla milkshake using this milk!
And at 40 calories per cup milk, this week's BeFreeForMe Friday Favorite is a beverage that you can enjoy all day long!