Friday Favorite: Golden Valley Organic Beef Jerky
I admit it … I am a Beef Jerky Junkie. I just love the stuff. Low fat and high protein all rolled into one. When I'm feeling hungry just one or two strips will do the trick.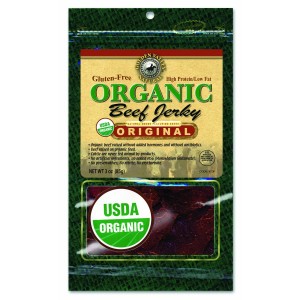 Ready-to-eat and never requiring refrigeration, these snacks are great for lunch kits, back-packs and for a quick snack right before, or after, the gym.
But since going gluten-free I discovered that most beef jerky contains gluten. So this jerky-loving gal was so excited when I found Golden Valley Beef Jerky.
The beef jerky comes in five (5) flavors: Original, Terryaki, Bar-B-Que, Sweet & Spicy, and my favorite, Peppered.
Not only is  this jerky gluten-free – it also contains no MSG, preservatives, nitrates or artificial ingredients. They are also dairy-free and, according to their website, meet the requirements of individuals that are allergic to milk proteins or are lactose intolerant. Another added bonus is that they are made with organic beef, which is fed organic feed, and raised without added hormones.
In other words, it's a beef jerky you can feel good about eating!
NOTE: The Golden Valley Beef Jerky is available to purchase on Amazon with Super-Saver shipping! Here is the link:
Golden Valley Natural Organic Beef Jerky, Original, 3-Ounce Pouches (Pack of 8 Pouches)
Tags: Friday Favorites, Golden Valley Beef Jerky, Is beef jerky gluten-free?