Thursday, January 29th, 2015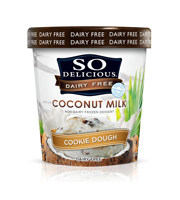 When you hear the words "Cookie Dough Ice Cream" you imagine an ice cream that is packed with gluten and dairy. Now… thanks to So Delicious you can enjoy one of our favorite ice cream flavors FREE of these two culprits.
The So Delicious Cookie Dough "Ice Cream" is vanilla coconut based and packed with cookie dough chunks and chocolate shavings. I love eating it on a gluten-free ice cream cone, or in a bowl drizzled with chocolate sauce. And if the Cookie-Dough flavor is not your thing, So Delicious also has other gluten and dairy free varieties such as Cherry Amaretto, Chocolate, Chocolate Peanut Butter Swirl, Green Tea and Pomegranate Chip and Coconut.
This week's Friday Favorite is awarded to So Delicious because they let all of us gluten and dairy free folks satisfy our cookie-dough cravings. Thank you SO Delicious!