Friday Favorite: evol foods Street Tacos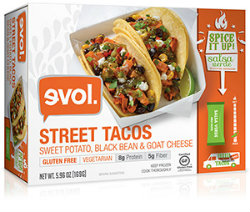 Eating at food trucks at lunchtime has become quite the craze over the past few years. The gourmet foods that are prepared in these roaming food trailers can be unbelievable… gourmet specialties served by some of the hippest chefs in the city.
If you want the taste and flavors of these food trucks right in your very own home or office, check out evol foods new Street Tacos. Found in the freezer section of your local grocer (I found mine at Target) the Street Tacos can be whipped up in minutes flat… and rival any fancy-dancy food truck out there.
I love the ease of preparing the tacos and the flavorful sauce pouches that come with each package. They are also packed with protein (8-15 grams per serving) and contain healthy all-natural ingredients. They have three (certified) gluten-free varieties: Uncured Bacon, Potato & Poblano Peppers with a pouch of Chipotle Crema; Shredded Chicken & Caramelized Onions with a pouch of Ancho Crema, and my favorite, Sweet Potato, Black Bean & Goat Cheese with a pouch of Salsa Verde.
Being able to enjoy fast & tasty food…. Every day and any time (not just when the food truck decides to show up!) are the reasons why this week's Friday Favorite on BeFreeForMe.com is awarded to evol foods. Congratulations!
Tags: evol foods, Friday Favorites, Gluten-free Tacos, Street Tacos