Thursday, October 27th, 2011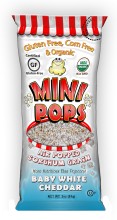 For those of you that love popped corn you are going to LOVE this week's Friday Favorite… Mini Pops Air Popped Sorghum Grain … which is similar to a popcorn – but far, far better!
Mini Pops is air-Popped sorghum grain. When this gluten-free grain is exposed to high heat, the water inside the center of each grain heats up and expands causing the grain to explode… just like popcorn. But unlike popcorn, Mini Pops do not have a hull – those aggravating little buggers that get stuck in teeth and your gums!
Mini Pops are fun to eat and delicious too. Just like popcorn, Mini Pops comes in several flavors including Baby White Cheddar, Cutie Carmel Clusters, Hot & Chilly Chili, Itsy Bitsy Chili Cheese, Itty Bitty Butter, Nano Pepper & Herb, Petite Plain, plus my favorite Subatomic Sea Salt.
If you're not familiar with sorghum it is fifth most harvested cereal grain in the world. Compared to corn it also has less calories, fat and sodium.
Not only are Mini Pops gluten-free, they are also made in a nut-free facility and free of pesticides or genetic modification.
All these popping good reasons are why this week's Friday Favorite goes to Mini Pops Air Popped Sorghum Grain! Congratulations!