Friday Favorite: Linwood's Ground Flaxseed, Sunflower, Pumpkin, Sesame Seed & Goji Berry Superfood!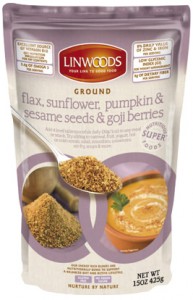 I admit that I was at first doubtful that these gluten-free ground concoctions of Super Foods would taste good. I know that incorporating flaxseeds into your diet is a great way to add nutritional benefits to my gluten-free diet, and I like flaxseeds well enough. But to actually get "excited" about a flaxseed based product seemed really, really far-fetched to me… that is until I tasted the Linwood's products.
The concept is simple. Linwood's has developed a line of Super Food containing products that are like no others that are currently in the market. They have done this by blending ground flax seeds with different combinations of other ground super foods for an unbelievably tasty and versatile healthy product.
Some of the gluten-free combinations that they have come up with include: Ground Flaxseed and Goji Berries; Ground Flaxseeds, Sunflower & Pumpkin Seeds; Ground Flaxseeds, Walnuts, Brazil Nuts, Almonds & Q10; Ground Flaxseeds, Cocoa, Strawberries & Blueberries; and my favorite, Ground Flaxseeds, Sunflower Seeds, Pumpkin Seeds, Sesame Seeds & Goji Berries. Linwood's also offers Organic Ground Flaxseeds and other products too.
Since getting my hands on a bag of this super Super Food, I have enjoyed it so much sprinkled on the top of my yogurt each morning. It adds a nice crunchy, sweet boost that makes my ho-hum yogurt into oh-yum yogurt. I can't wait to get my hands on a few more bags so I can experiment with the recipes on the Linwood website, as well as try some of my own gluten-free recipes.
This week's BeFreeForMe.com Friday Favorite goes to Linwood's Flaxseed Blends for the simple reason of making flaxseeds tasty and … actually FUN! (Yes… it CAN be done!).  Congratulations!
Note: Made in Ireland this product is now available in the USA and should be in stores shortly… ask your stores for it your next visit. Until then I'll be getting my "Linwood's flax seed fix" by ordering mine on Amazon.com. Here's the link: Linwoods Sunflower Pumpkin Sesame Flaxseed, 15-Ounce
Tags: Friday Favorites, ground flaxseed, Linwoods Ground Flaxseed blends