Thursday, October 28th, 2010
It that time of year again when I start digging out those recipes for my homemade stews & soups.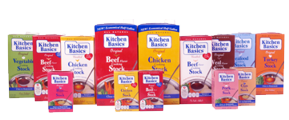 But often time I don't have the time (or the patience!) to make homemade stocks.  That is when I reach for Kitchen Basic Stocks.
Found in most "mainstream" supermarkets alongside those gluteneous stocks and soups, Kitchen Basics products are all tested to be free of most allergens – including milk, egg, peanut, gluten, soy, tree nut and corn. (Note: all the products are also fish and shellfish free, with the exception of the Seafood and Clam Stocks – which are clearly marked).  They also do not autolyze, hydrolyze, or add or produce any MSG.
Just like the name implies, these broths are basic kitchen stocks I would make myself, if only I had the time, energy and effort during my busy dinnertime hour. I also like the convenient 8-ounce single serve containers, especially when cooking up a recipe that needs a cup or less of chicken, beef or seafood stock.
All these basic, simple and trouble-free reasons are why this week's BeFreeForMe Favorite Friday goes to Kitchen Basics Stocks!
Soups on!