Thursday, January 27th, 2011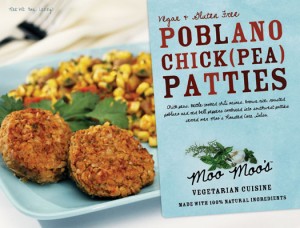 I was so excited to find these new frozen entrees at my local supermarket. Made with 100% natural ingredients, these vegetarian entrees also offer many gluten-free, lactose-free and vegan options.
What attracted me to these entrees, made by Moo Moo's Vegetarian Cuisine, are the fresh, not so typical varieties such as Polenta Florentine, Black Bean Cakes & Mango Salsa, and my favorite, Poblano Chick(Pea) Patties.
The Poblano Chick(Pea) Patties are a perfect lunch or dinner choice. The Chickpea patties are moist, flavorful and packed with tons on protein (there are 9 grams of protein per serving). The chick(pea) patties are really, really good. I have to admit though I was skeptical to try them at first, but I loved them after the first bite!  They are made with chickpeas, brown rice, chili onions and roasted poblano & bell peppers – a delicious combo. This entree is also gluten-free and vegan.
There are two chickpea patties per serving / package that are served over a side of Roasted Corn Salsa, that is fresh, crisp and flavorful. One 9-ounce package is considered one-serving – and it is a nice, big, filling and hearty portion…which I loved, especially since this entree is THAT good!
Oh… the best part? One serving is only 230 calories and only 3 grams of fat. No guilt in eating this goodness.
Moo Moo's Poblano Chick(pea) Patties take the honors of being this week's Friday Favorite on BeFreeForMe for their good taste, good ingredients and good portions! Cheers Moo-Moo's!