Thursday, May 10th, 2012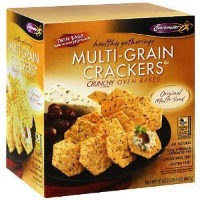 It's tough to find a gluten-free cracker that will be loved by the gluten-free and the non-gluten free alike.
And we all know that some gluten-free crackers are not what they're cracked up to be. Some out bland. Some are hard. Some are tasteless.
But thanks to Crunchmaster that is not the way gluten-free crackers need to crumble.
Crunchmaster crackers are so versatile. They are great all by themselves, with cheese, with dips and also ground and used as crumbs on chicken and seafood. Many of the varieties are also dairy-free, vegan and sugar-free too.
Crunchmaster Crackers are also made in a certified gluten-free facility. They are made with 100% whole grain, are cholesterol free, low in sodium, low in saturated fat and have no trans fat.
Cheers to Crunchmaster and the fabulous crackers they make…and congratulations on being awarded this week's Friday Favorite on BeFreeForMe.com. Crunch on!
Want to buy Crunchmaster Crackers? Check out this link on Amazon.com and take advantage of FREE Super Saving Shipping: Crunchmaster Multi-Grain Crackers Gluten Free 20 oz.