Thursday, July 23rd, 2015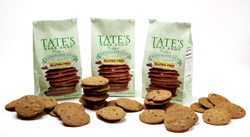 I had lunch with my God Mother last week which was a special treat.  I haven't seen her for years, but we started exactly where we left off, chatting and gabbing hours away about everything and anything.
But her presence wasn't the only treat of the day. She brought along a gift of Tate's Gluten-Free Chocolate Chip Cookies for me.
For those of you that haven't tried these cookies yet, you must. These thin, crunchy cookies taste like homemade.  Eating just one is almost impossible. They are just that good!
And best yet Tate's has more varieties of gluten-free baked goods that I can't wait to try including,  double chocolate cookies, ginger zinger cookies, and gluten free brownies. All of Tate's Bake Shop gluten free items are produced in a dedicated gluten free facility and are certified by the Celiac Sprue Association.
Thanks to my wonderful God Mother, Kay, I was bale to discover Tate's Bake Shop's gluten-free cookies! All of these wonderful reasons are why this week's Friday Favorite is awarded to Tate's Gluten-Free Chocolate Chip Cookies! Congratulations!