Thursday, March 19th, 2015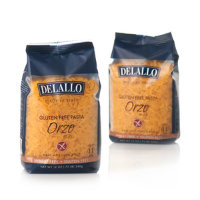 Yup! You heard it right Gluten-Free ORZO! One of things I've missed the most since eating gluten-free is Orzo… those tiny little pastas that are excellent in cold salads, soups and stuffed peppers.
I discovered DeLallo Gluten-Free Orzo (and their yummy other gluten-free pastas) at the ExpoWest trade show that I visited in Los Angeles this month.
The DeLallo gluten-free pasta is made with the "the finest raw ingredients sourced from Northern Italy". They also take special care to make sure the gluten-free pasta, which is a blend of corn and rice, is milled for  full-flavor and the perfect "al dente" bite, that we all know can be so hard to achieve with many other gluten-free pastas.
One of my favorite recipes to make with Orzo is this Olive & Feta Orzo Salad. It is perfect for the first day of Spring!
All of these reasons are why I am so happy to announce DeLallo Gluten-Free Pasta as this week's Friday Favorite on BeFreeForMe.com. Congratulations!