Saturday, May 12th, 2012
Don't you just love it when you find out that a company is doing some good? Giving back to the community and recognizing others that are also doing good?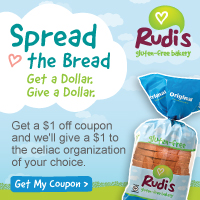 I was smiling from ear-to-ear when I heard about Rudi's newest campaign in honor of Celiac Disease Awareness Month.
Their campaign is called Spread the Bread (I just love the name!) and the concept is easy:
Rudi's Gluten-Free will donate $1 to your favorite celiac organization when you download a $1 OFF coupon good towards any Rudi's gluten-free bread.
It's simple. Easy. And a win-win for everyone. Talk about spreading around some gluten-free love!
The celiac organizations that you can designate as the recipient of your $1.00 donation include:
Celiac Disease Foundation
Celiac Sprue Association
Gluten Intolerance Group of North America
National Foundation for Celiac Awareness
To get your $1.00 OFF coupon and designate the national organization to be the recipient of your $1.00 donation from Rudi's, click on this Facebook Link.
On behalf of the gluten-free community – thank you, Rudi's for this fantastic campaign!
Let's hear your comments… What is your favorite national celiac organization? How about any local organizations?