Tuesday, December 29th, 2009
This weeks WIN-It-Wednesday is sweet for those concerned with multiple allergies, specifically dairy, egg, nuts and tree nuts.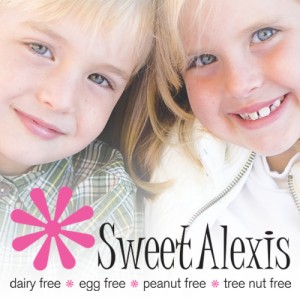 The Sweet Alexis brand of cookies, breads, cakes and muffins is inspired and managed by an enthusiastic Mom that has two children with numerous allergies. Set out on a mission to provide sweets that were safe for her children, these Mom-inspired products are all produced in a dedicated commercial kitchen, on dedicated equipment, where no eggs, dairy or nuts are allowed. The Sweet Alexis products are also free of preservatives and fillers. 
Some of the egg, dairy and nut-free products that Sweet Alexis makes are: Chocolate Chip Cookies, Blueberry Muffins, super-moist Banana Bread, and decadent Chocolate Cake… to name just a few.
I had the chance to chat with Michele, the Mom that founded Sweet Alexis, in great lengths on the telephone. We chatted from everything fr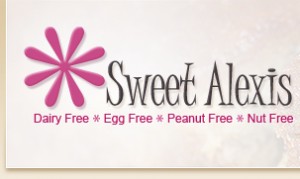 om our entrepreneurial endeavors, labeling on food products, obstacle those with allergies need to overcome while on vacation and at restaurants, to the kindness and support those in the food allergy / celiac communities offer to each other. What struck me most however, was her positive attitude and optimistic approach for her mission to help others with food allergies.
This woman is truly inspiring.
After our phone call I checked out the Sweet Alexis website and read about how Sweet Alexis came to be. The story that Michele tells is so similar to the stories I hear daily from so many BeFreeForMe members.  Stories that touch your heart and let you know that you are not alone.
One sentence that Michele writes on her website exemplifies her positive energy and spirit:
"Day by day, I am turning something devastating into a positive and that in itself feels really sweet."
With that encouraging and inspiring thought in mind, two (yes 2!) LUCKY BeFreeForMe Members, will win a Gift Pack of the Sweet Alexis products, full of a variety of egg-free, dairy-free and nut-free cookies, muffins, breads and cake (A $50 value!) Remember the Sweet Alexis products ALL contain gluten… so these products are NOT for you, if you or your child are on a gluten-free diet!
How can you win?
Easy!
Reply to this blog and tell us how you, like Michele, make your days sweeter, even while living with food allergies or intolerances (Me? I remember and remain grateful for the foods that I can eat, rather than focus and grieve over the foods that I can not).
All entries must be received by Wednesday, January 6th, 2010 by 12:00 midnight (We're extending the deadline this week by a few days due the Holiday Week.)
Good Luck, remember that life is indeed very, very sweet, and as always…
Be Free!