Tuesday, November 30th, 2010
ONE MORE WEEK TO WIN! Enter again between Wednesday, 12/8 and Wednesday 12/15 for a SECOND CHANCE TO WIN! Double your chances of being the winner on BeFreeForMe and enter again… today!
~ Be Free! Kathleen
This week's WIN-It-Wednesday on BeFreeForMe is a Gigantic Glu-TEN Free Giveway! BeFreeForMe, as well as, nine other gluten/allergen free bloggers (see the list below),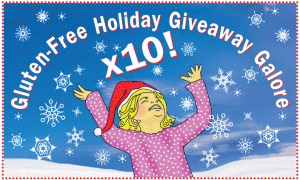 are each hosting a giveaway of the book, "Mommy, was it Celiac Disease?" signed by the author Katie Chalmers, PLUS a jam-packed holiday gift bag loaded with tons of gluten-free goodies and treats!
So lucky for everyone out there in gluten-free cyber-land you have exactly TEN chances of winning this "Gluten-Free Holiday Giveaway Galore x10!" This is what I call Glu-TEN Free Madness!
The book "Mommy, What is Celiac Disease?" is a perfect holiday gift. It is a one-of-a-kind book so gracefully & eloquently written by Katie Chalmers, a mom who has celiac disease, along with her daughter, Morgan. They were both diagnosed with the disease a little over 2 years ago, and since that time they have learned to embrace, and make the best, out of living gluten-free. Make sure you check out their page on facebook.
The book explains what celiac disease and the gluten free diet entails in language that children can understand, all the while encouraging dialogue for additional questions. A must-have for any child with celiac disease, this book is also a must-read for any elementary school story hour that has child with celiac disease in the classroom.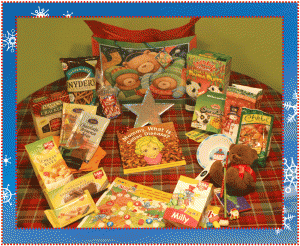 Along with the signed copy of this book, the second part of this prize pack is a gift bag loaded with gluten-free foods including products from Mary's Gone Crackers, Snyder's of Hanover, Chebe, Bob's Sweet Stripes, Nature's Path, Schar's and Pamela Products; as well as some fun giveaways including Holiday pencils, erasers and note pad, a stuffed teddy bear, and a plastic snowman cereal bowl perfect for your favorite gluten-free cereal. Wheww… that's a LOT of gluten-free goodness that great for gifting*!
How can you WIN?
Easy!
Reply to this blog between now and December 15, 2010 (10 PM EST), and tell us your favorite holiday gift growing up as a child (Me? A walking doll! I loved her!).
Note: Also make sure you enter to win one of the 9 other prizes on my fellow gluten-free blogger's sites (Let them know that BeFreeForMe sent you over!). The blogs are: Accustomed Chaos, Adventures of a GF Mom, Celiac Family, Gluten Free Betsy, Gluten Free Easily (gfe), Gluten Free is Life/CeliacDisease.com, Gluten Free Philly, Gluten Free Taste of Home, and Simply Sugar & Gluten Free.
Good Luck, remember to often look at the world through the eyes of a child, and, as always…
Be Free!
———-
Contest Rules (From "Mommy, What is Celiac Disease?"):
•    All 10 of these contests are open to residents of the USA. Only the Accustomed Chaos and Gluten Free Easily contests are also open to Canadian residents.
•    All 10 contests begin on Wed. Dec. 1, 2010 and will end on Wed. Dec. 15, 2010 at 10pm EST.
•    Entry requirements will vary between bloggers. Please follow their directions to enter.
•    Entrants can only win once total within all 10 giveaways. If anyone is chosen more than once as a winner, another winner will be chosen so everyone only wins once.
•    One winner per household.
•    Winners with valid entries will be selected at random. The winners will be announced and notified via email and must reply within 24 hours to claim. Otherwise, another eligible entry will be chosen, in order that all prizes will arrive before Christmas. So please remember to check your email on Dec.16th.
•    If any of the 10 prizes do not arrive before Christmas because of any unforeseen holiday mail rush problems, the USPS, Katie Chalmers and hosting bloggers will not be held accountable.
* Note: Prize pack contents may vary.