Thursday, November 18th, 2010
Jelly Belly Fruit Snacks, made by the makers of Jelly Belly Jelly Beans, are a healthier snack alternative that are made with 100% natural fruit juices and real fruit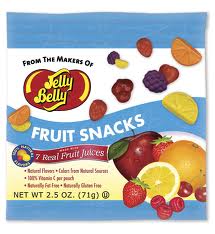 flavors.
I discovered these pop-in-your-mouth-full-of-goodness snacks last month at a trade show, and have been hooked ever since.
Naturally gluten-free and fat-free, a snack sized bag has only 220 calories. These fruit shaped bite-sized jelly-like snacks come in 6 flavors: Orange, Strawberry, Apple, Cherry, Lemon and Berry.
Good tasting snacks that are fun to eat are the reasons why Jelly Belly Fruit Snacks are awarded this weeks Friday Favorite on BeFreeForMe.com.