Thursday, February 24th, 2011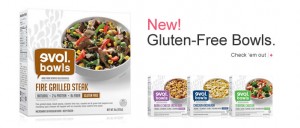 It's not very often that I can't stop talking about how good something is as I am eating it, all the while savoring each and every single bite… But the evol Fire Grilled Steak Bowl has me still thinking and talking about my dinner last night.
I love (or spelled backwards – evol – coincidence?) this quick and easy microwavable lunch or dinner… any way you look at it.
Packed with 21 grams of protein and 8 grams of fiber this gluten-free meal is "made from scratch deliciousness" just like the packaging says.
At first I was leery. A microwavable meal with beef in it? How would it taste? Would the beef be recognizable? But as soon as I opened up the packaging I could see the real pieces of tender beef – which is antibiotic free, never fed growth hormones and sustainably raised by family farms. The beef tastes exactly like beef I would cook up myself.
The other ingredients in the nutritious evol Fire Grilled Steak Bowl reads like a shoppers list at a Farmer's Market… Black Beans, Rice, Bell Peppers, Cilantro Lime Pesto, Corn, Monterey Jack Cheese, Lime Juice, Cilantro, Salt & Spices.
In fact, this bowl comes so close to one of my restaurant favorites – Chipotle beef bowls.
Plus, in each package of evol products comes a fun evol sticker that enables you to spread your love of their products. Also, if you save up the UPC codes off the packages you can get a fun evol t-shirt. Looks like my t-shirt will be coming mighty fast!
My love of the fresh taste and convenience are the reasons evol Fire Grilled Steak Bowl get, without a second thought, this week's BeFreeForMe's Friday favorite honors! Congratulations!