Monday, February 21st, 2011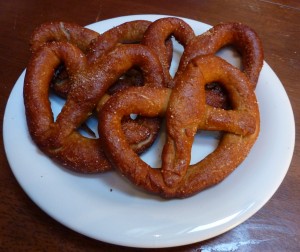 The snow is thawing, the days are getting longer – and our beloved Red Sox have started to practice down in Fort Myers: All true signs that Spring is surely on the way.
And with every thought of another World Series pennant and warm evenings spent at Fenway Park, I can't help myself from yearning a hot & fresh soft pretzel sprinkled with salt and smothered in yellow mustard – one of the things I miss the most since going gluten free.
So I got my measuring cups, bowls and thinking-cap out and started playing around in the kitchen to come up with a gluten-free soft pretzel recipe that would rival any ball parks concession stand – and came up with this winning recipe. I think you'll find it a home run too.
ADDITIONAL NOTE: So many (and I mean tons!) of people have contacted me about purchasing the Pamela's Gluten-Free Bread Mix to make these pretzels. For quick and easy ordering, check out this link for ordering the mix on Amazon:

Pamela's Products Wheat-Free & Gluten-Free Bread Mix, 19-Ounce Packages (Pack of 6)
Or for a larger size check out this link:  Pamela's Products Amazing Wheat Free & Gluten-free Bread Mix, 4-Pound Bags (Pack of 3)
BeFreeForMe's Gluten-Free Soft Pretzel Recipe
One 19-ounce package of Pamela's Gluten-Free Bread Mix (includes the yeast packet)
1 teaspoon granulated sugar
½ teaspoon salt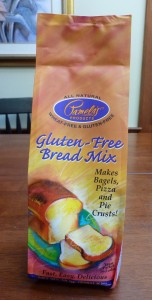 1 1/3 cup warm water
¼ cup canola oil
For boiling pretzels:
10 cups of water
½ cup of baking soda
For brushing on pretzels:
1 egg
1 ½ tablespoon milk
Butter or margarine, for lightly greasing parchment paper
Some ideas for sprinkling on pretzels:
Pretzel salt / Kosher salt / Sea salt
Cinnamon and Sugar
Parmesan cheese
Sesame seeds
Poppy seeds
Garlic Salt
In a large bowl combine together the bread mix, the enclosed yeast packet, sugar, ½ teaspoon salt, 1 1/3 cup of water and the canola oil. Using a stand mixer, mix for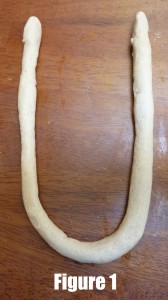 about 3 minutes (or carefully using a hand-blender, on lowest speed, blend until almost blended. Note: Be very careful since the dough will be sticky so it will require a constant stopping of the blender to remove dough from the attachments. After blending, remove from the bowl and knead by hand on a su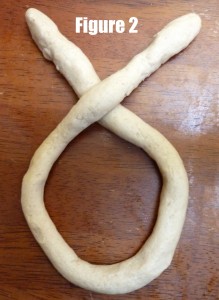 rface dusted with gluten-free flour or corn starch until well combined.
Next, divide the dough into seven equal portions. Working one portion at a time and using the palms of your hands, roll the dough into 18″ to 22 inch "snake-like" lengths. Next make the length of dough into a "U" shape (Figure 1). Cross over the top ends (Figure 2) – and then bring them back towards yourself, to make a pretzel like shape (Figure 3). After each pretzel is made, place on a parchment lined baking sheet.
Let pretzels sit, unrefrigerated for about 1 to 1 ½ hours.
When ready to cook, preheat oven to 400 degrees F.
In a large sauce pan or crock pot, bring 10 cups of water combined with the baking soda to a boil. Using a slotted basket (or a large slotted spoon) place each pretzel – one at a time – into the boiling water for about 40 seconds. Remove the pretzel from the boiling water, and place them side-by-side on a baking sheet, that is covered with parchment paper which has been lightly greased with butter or margarine.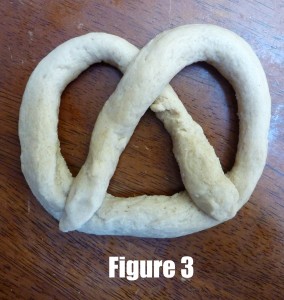 In a small b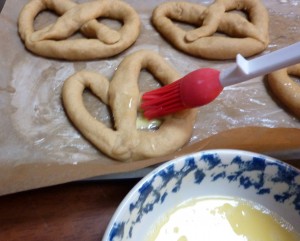 owl whisk together the egg and the milk.
Pat each pretzel dry and brush with the egg and milk combination. Next, sprinkle with your choice of topping. (Some ideas: Kosher / pretzel salt, cinnamon & sugar, Parmesan cheese, sesame seeds, poppy seeds).
Bake in the oven just about 15 minutes – or until pretzels are browned.
Serve immediately. Note: Serve with yellow mustard or other dipping sauce if desired.
Makes 7 pretzels.