Tuesday, December 29th, 2015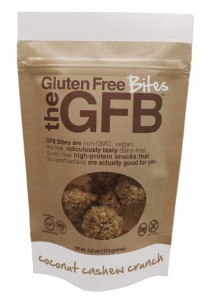 With the New Year almost here most of us are thinking about resolutions. But for many of us resolutions can be daunting responsibilities that hang over our heads and are hard to keep.
But for those lucky folks who are making a resolution to eat healthy snacks, BeFreeForMe.com is here for you… and for helping you keep those resolutions!
How? The next few Win-It-Wednesday blog posts I will be featuring some of my all-time favorite healthy snacks and all you need to do is comment to win. =)
We're kicking off this New Year's Healthy Snack Win-It-Wednesday Palooza by featuring GFB Bites a non-GMO, vegan, soy-free, dairy free, gluten free and high protein snack that actually tastes delicious… and is good for you.
Made by The Gluten Free Bar company these bite sized morsels are the perfect snack for when you are driving, on the train, in class, at your desk or between errands.
These bites are soft & chewy too. Deliciousness in every bite! The flavors they come in are: Dark Chocolate Hazelnut, Coconut Cashew Crunch (my favorite!), Dark Chocolate Coconut, PB&J, Dark Chocolate Peanut Butter and Chocolate Cherry Almond.
I also love that these snacks are made with responsibly sourced ingredients, and are made in their own sustainably operated (B Corp Certified) AND in a dedicated gluten free facility.
All of these reasons are why we are so excited to offer up a bag of my favorite the Coconut Cashew Crunch GFB Bites to two lucky winners!
One (1) winner will be randomly selected from the entries received before Tuesday, January 5, 2016 at 11:59 PM EST, and one (1) more winner will be randomly selected to win from the entries received between Wednesday, January 6  and Tuesday, January 12, 2015 at 11:59PM. SO – make sure you enter two times to win!
How can you win?
Easy!
Reply to this blog and tell us what your New Year's resolution is (Mine? Getting outside more and enjoying nature whether it be walking, hiking, or just eating my lunch outside on the town green) OR tell us which flavor of the GFB Bites variety looks the best to you.
Good luck, keep on those resolutions, and, as always …
Be Free!
P.S. Want to find out more about The Gluten Free Bar company? Follow them on Facebook or Twitter !