Wednesday, December 16th, 2015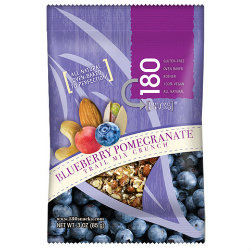 180 Snacks Trail Mix Crunch is a perfect anytime snack.  These bite sized snacks are healthy and delicious. Both kids and adults love them.
Founded on the principle of using fresh ingredients, 180 Snacks has outdone themselves once again by offering these delectable snacks that are perfect anytime of day.
The bite sized pieces are perfect for kid's little hands, and also for adults munching by the handful.
I love that this gluten-free, kosher, 100% vegan and all-natural trail mix has a totally different texture than any other trail mix I have tried. It has a really crunchy, call it actually crispy, snap that is surprisingly tasty and perfect for breakfast or snack time. 180 Snacks achieves this perfect crispy crunch by oven baking the trail mix… delicious!
The trail mix comes in four varieties including, Pecan; Pistachio; Cranberry Pomegranate, and my favorite, Blueberry Pomegranate. 180 Snacks also makes other products including Bars, Clusters and Nutty Rice Bites.
All of these crispy, crunchy and delicious reasons are why I am so excited to share with two lucky BeFreeForMe.com members a bag of 180 Snacks Blueberry Pomegranate Trail Mix Crunch that enter to win this Win-It-Wednesday prize.
One (1) winner will be randomly selected from the entries received before Tuesday, December 22, 2015 at 11:59 PM EST, and one (1) more winner will be randomly selected to win from the entries received between Wednesday, December 23 and Tuesday, December 29, 2015 at 11:59PM. SO – make sure you enter two times to win!
How can you win?
Easy!
Reply to this blog and tell us which flavor of the 180 Trail Mix Crunch varieties  looks the best to you (is it the nutty Pistachio or Pecan? Or the fruity Cranberry Pomegranate or Blueberry Pomegranate?
Good luck, keep on crunchin', and, as always …
Be Free!