Sunday, January 31st, 2010
Today was one of those just fabulous days! It was full of gluten-free food, fun and folks!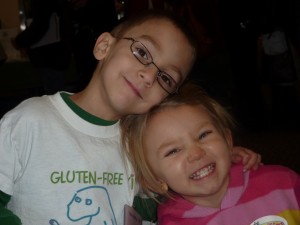 I just got home from the Healthy Villi Gluten-Free Winter Membership Meeting in Wellesley, Massachusetts. Like many of you, I belong and participate regularly in my local celiac (as well as food allergy) support groups. I love to join in the activities, find support and also meet some awesome fellow celiacs / food allergen-free folks that make my life just so much nicer.
I met so many wonderful BeFreeForMe members today… Thanks for stopping by and introducing yourselves!
Here is a summary of some of fabulous food finds from the exhibits today:
Willoughby's Muffins: Gluten/Nut/Dairy and Soy-free these muffins are like homemade. Made in a designated gluten-free facility, Willoughby's may make muffin pans a thing of the past! Buy on-line at EdiblesByJ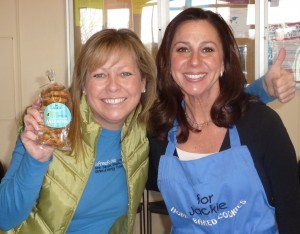 ack.com
More Than a Macaroon: Can I say YUM? A must try, these cookies are chewy, gooey and hands-down one of the most addictive cookies I have ever eaten. A family-owned and operated business, with a passion for celiac baking, this cookie company will become a household name in gluten-free households everywhere. Mark my word.
Lola's Italian Groceria: Craving gluten-free Eggplant Parmigiana, classic Italian Lasagna or a sweet cannoli? Check out Lola's and have a tray delivered to your house for your next get-together or small party. Delicious!
Glutino: The number of gluten-free items, and the quality and tastiness of the products Glutino's has in their line-up always amazes me. The pretzels, the cookies, the meals … all delicious and truly some of my all-time favorites.  Thank you Glutino for being the benchmark for gluten-free products!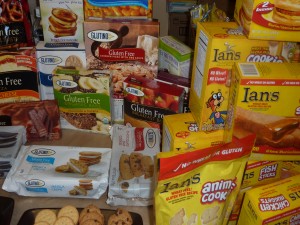 Ian's Natural Foods: The products in Ian's line-up make me secretly wish I was a kid again… but, then again, Big Kids can love Ian's products too! If you haven't tried them yet, check out Ian's Maple Sausage & Egg Wafflewich for a fast & easy breakfast idea!
Riceworks: A favorite of the gluten-free community, riceworks are just so good! Crunchy and tasty, Riceworks gives back tons to the gluten-free community too. Make sure you nominate for your favorite non-profit group for Riceworks Show Us Your Goodness program!
Kettle Cuisine Soups: It's about 20 degrees over here in Massachusetts so I was so excited to see Kettle Cuisine here at the show today! If you haven't tried them yet, you MUST! With 10 (yes, TEN!) gluten-free varieties and five that are dairy-free and five that are vegan, this is one of those staple gluten-free items that I always have on-hand. Need to buy? Find out where here. 
Mr. Ritt's Bakery: A favorite at tradeshows, Mr. Ritt's carries it all! Breads, cookies and pizza crusts – a favorite gluten-free designation!
Check out more finds from the Healthy Villi Winter meeting tomorrow on BeFreeForMe.com!