Tuesday, January 26th, 2010

It's tough enough to get kids to eat right, but if you add food allergies or celiac disease into the mix the challenge become even greater.
That is why I was more than peas (whoop, I mean pleased!) when I stumbled across the Peas of Mind booth at a local food show a few months ago.
Made by a mom, Peas of Mind Puffets offer a perfectly balanced nutritious meal for growing kids. Puffets are also super easy to prepare, delicious and perfect for lunchboxes and as a grab-and-go or hand-held meal. The Puffet's come in six fabulous flavors; three of them are gluten-free (Eat Your Greens, Carrot Risotto and Black Bean Polenta) and two are dairy-free (Mamma's Pasta & Dalai Lentil).
Although packed with nutrients that are fit for kids, Puffets are also a hit with adults looking for an organic & healthy snack or side dish. They are perfect accompanied with a cup of fresh homemade steaming soup or a crisp from the garden salad.
Peas of Mind also make Veggie Wedgies, which are baked crispy French fries made from real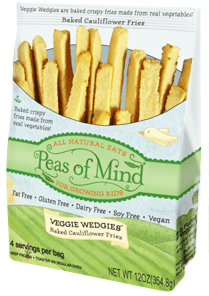 vegetables! Ingenious & delicious! The baked carrot fries, baked cauliflower fries, baked apple fries and the baked broccoli fries are a wonderfully sneaky way to get veggies into your little ones tummies. Containing all organic & vegan ingredients, these fries are packed with vitamins and nutrients – not oil and sodium like regular French fries. They are also gluten, dairy, egg, and soy free.
And at only 20- 25 calories and zero fat per serving, one taste of the Veggie Wedgies had this calorie conscious big girl asking, "Can I super-size that?".  Again, here is another Peas of Mind product that's made with kids in mind, but perfect for adults too. 
The convenience, organic and natural ingredients, and the way the vegetables have been snuck into these delicious gluten and allergen-free products makes me happy to have Peas of Mind as this weeks WIN-It-Wednesday sponsor. One lucky winner will be the recipient of a Peas of Mind FREE Coupon gift pack redeemable for various Peas of Mind products!
How can you WIN?
Easy!
Reply to this blog and tell us how you get your kids, yourself, and/or your family to eat or be healthier. (Me? I try to buy local produce and dairy as much as I can… it's fresher, taste better, and it's better for the environment & local economy too!)
All entries must be received by Wednesday, February 3, 2010 by 12 Midnight EST.
Good Luck, Be sneakily healthy, and as always…
Be Free!