Sunday, October 4th, 2009
At the Natural Product Expo East, that took place in Boston from September 23 – 26th, I discovered many, many new products that the BeFreeForMe member's just need to hear about!
I was pleasantly surprised at how many "fun" gluten and allergen-free products I found at the show that catered to kids. The marketing and the packaging of these products are outstanding, and for the most part, make gluten and allergen-free products for kid's mainstream. Following are a few of the phenomenal kid's products I found:
Ian's Maple Sausage & Egg Waffle Sandwich: (Wheat, Gluten, Milk, Casein & Nut Free): Although this product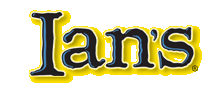 is made for the kids – it is delicious and substantial enough for a big kid like me! Ian's, as always, hit yet another homerun with this product. Quick, easy and microwavable – this delicious & nutritious sandwich quickly becomes a "solution" during those hectic mornings! (P.S. Ian's has some other awesome products coming up in the near future – I will share more once these new pr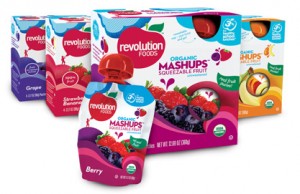 oducts are available). Get Ian's coupons here.
Revolution Foods Mashups Squeezable Fruit: This 100% organic unsweetened fruit puree is gluten free and has no trans fats or high fructose syrup. Basically this is squeezable, eatable fruit – that is ideal for the lunchbox or on the go snacking. Cool to eat, and good for you too. At 50-60 calories per pouch – these may be the hippest snacks for the Moms too.
Organic B.R.A.T. Tummy-Soother: (Gluten, Lactose, Soy, Corn and Casein free) This product, whic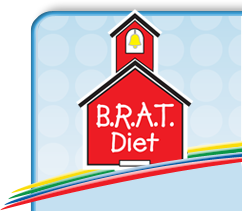 h was voted the Most Innovative Product at Natural Product Expo East, is designed to naturally promote electrolyte balance to aid in childrens re-hydration. Packed with calcium and vitamins it helps build strength and promote health. The four flavors are all gluten, corn, soy and preservative free. Although the B.R.A.T. (banana, rice, apples, toast) diet has traditionally been used for when people get sick, this product taste so good, and is nutritious enough to be enjoyed on a regular basis. I think this product would be perfect for those kids that are recently diagnosed with celiac, and have a hard time finding foods that make their tummies feel well.
Peas of Mind: (Gluten, Dairy, Egg, Soy free – plus vegan) These baked crispy French fries made from real vegetables are delicious! The baked carrot fries, cauliflower fries, baked

apple fries and the baked broccoli fries are a wonderfully sneaky way to get veggies onto your little ones tummies. Containing all organic ingredients,  these fries are packed with vitamins and nutrients – not oil and sodium like regular French fries. Can I super-size that?
Tasty Baby Frozen Organic Foods for Babies & Kids: These gluten free baby foods, an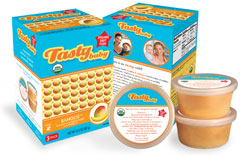 d perfect for the gluten-intolerant. Although they are packaged for babies these products also are great for the whole family in smoothies, recipes and snacks.