Thursday, September 29th, 2011
This week's Friday Favorite on BeFreeForMe.com goes to an all-time favorite snack… Snikddy Baked Fries.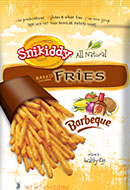 Besides making some darn good healthy snacks, Snikiddy is just an all around super cool company. Co-Founded by a daughter (Mary Schulman) and her Mom (Janet Owings) this Mom-Daughter team set-out to develop a line of delicious and fun snack foods that are also simple, wholesome and real. (On another note, I was totally honored to hear Mary speak last week at the Natural Products Expo East in Baltimore…. WHAT an inspirational woman!)
The Snikiddy snacks are made with all-natural ingredients, are gluten-free, have less fat than regular potato chips, and contain no preservatives or corn syrup.
I love the way they have also expanded their product line over the years. As well as offering the Baked Fries and Baked Cheese Puffs,, they have added their newest addition, Eat Your Vegetables.
The Baked Fries come in several flavors including Cheddar Cheese, Southwest Cheddar, Bold Buffalo, Barbeque, Sea Salt, and my favorite Classic Ketchup.
This weeks's Friday Favorite goes to a business run by an inspirational woman that provides healthy snack the whole family will love! Thanks Mary!
Want to buy Snikiddy Snacks now? Check them out on Amazon.com Snikiddy All Natural Baked Fries, Classic Ketchup, 4.5-Ounce Bags (Pack of 12)